Growth slows for liquor maker Kweichow Moutai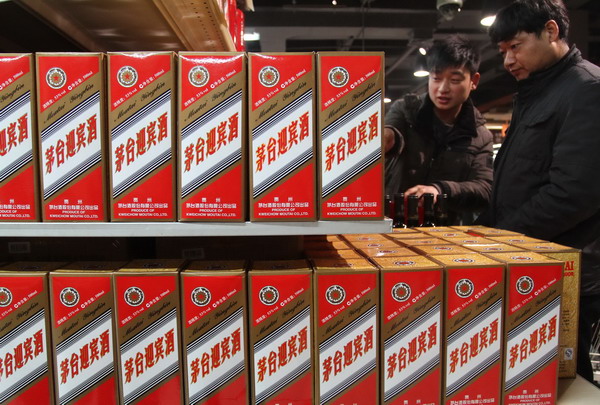 China's biggest baijiu producer, Kweichow Moutai Co Ltd, made total net profits of 3.59 billion yuan ($581 million) in the first quarter this year, up 21 percent year-on-year. [Photo by Geng Guoqing / Asianewsphoto] 
China's biggest baijiu producer, Kweichow Moutai Co Ltd, made total net profits of 3.59 billion yuan ($581 million) in the first quarter this year, up 21 percent year-on-year, according to a report released by the company on Wednesday.
But the growth rate was much slower than the company's annual average of 51.86 percent last year. Its net profits amounted to 13.3 billion yuan in 2012.
Earnings per share were 3.46 yuan in the first quarter. The company will give shareholders cash dividends of 64.19 yuan with tax included for every 10 shares.
Kweichow Moutai, listed on the Shanghai Composite Index, closed at 178.49 yuan per share on Wednesday. Its price has dropped 15.94 percent in the first three months of this year.
Kweichow Moutai's net profits jump in 2012
Moutai, Wuliangye hit with heavy fines: report
Chinese enjoy 'frugal' and 'green' Spring Festival
Moutai chairman warns of growth slowdown
Moutai's 2012 net profit lower than expected
Kweichow Moutai forecasts profit increase