Kweichow Moutai Co Ltd, China's biggest liquor maker by market value, has struggled under a Central Military Commission decision to ban luxury dinners.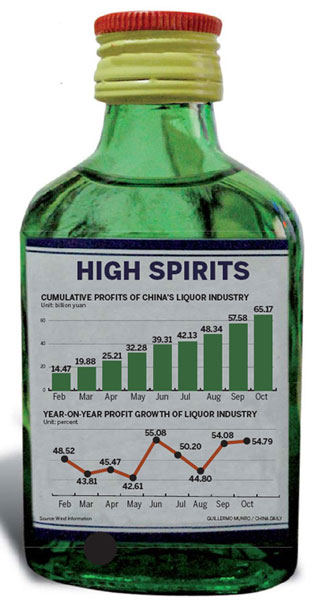 The company's stock price fell by 5.55 percent to close at 204.58 yuan ($33) on Monday.
On Friday, the nation's top military authority announced 10 regulations aimed at reducing extravagance and curbing corruption. Among them were bans on liquor or luxury banquets and restrictions that prevent senior military officers from staying in luxury hotels while they are on business trips.
Moutai, one of the most famous brands of the Chinese liquor,or baijiu, will bear the brunt of the new regulations, analysts said.
"The slump in Moutai's share price is the immediate result of the Central Military Commission's reining in of luxury spending, including the consumption of baijiu," said Liu Jiang, an industrial analyst from Sealand Securities Co Ltd.
"This is part of the new leadership's efforts to trim officers' extravagant spending on banquets and inspection tours."
The stock price drop was the biggest Moutai had seen in a single day since Dec 3 and came even as the Shanghai Composite Index increased by 0.27 percent.
"The new leadership has shown its commitment to having practical and down-to-earth work methods, and more and more detailed regulations are being issued," said Long Fei, an industrial analyst from Guosen Securities Co Ltd.
The Beijing municipal government also banned banquets for civilian officials on fact-finding trips in the capital city, and said it will instead offer them buffets, Xinhuanet.com reported on Saturday.
Like Moutai, other alcohol companies have seen the value of their shares decrease since November and experienced large drops on Monday.
On the Shenzhen Stock Exchange, Anhui Gujing Distillery Co Ltd declined 3.88 percent, and Wuliangye Yibin Co Ltd, the second-largest producer of baijiu, fell by 3.02 percent. The Shanghai-listed Sichuan Swellfun Co Ltd, partly owned by Diageo Plc, dropped by 1.62 percent.
"After losing a large source of consumption - the official banquets - high-end baijiu will not do as well as before," wrote Zhang Yanlin, research director for China Investment Consulting.
However, Long from Guosen Securities said Chinese baijiu remains undervalued.
"Look at the high price of red wine from overseas and you will find that Chinese baijiu, with its longer history and greater popularity in the domestic market, has the potential to increase in price," he said.
The decision about luxury dinners is the second blow to fall on makers of Chinese baijiu after headlines began in late November alleging that Moutai products contained toxic levels of DEHP, a substance harmful to human health.
wang_ying@chinadaily.com.cn
Related Readings
Ups and downs of Chinese liquor industry

Chinese liquor makers 'sober up' over bans

Kweichow Moutai's net exceeds 10b yuan in first three quarters

Kweichow Moutai to invest more for airport construction