Small cities make big strides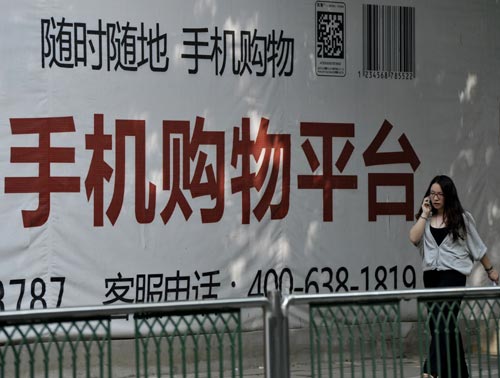 An advertisement promoting an online smartphone store in Nanjing, capital of East China's Jiangsu province. [Photo/China Daily]
Mobile online shopping gains more ground in lesser-known regions of China
Small cities in China have shown the fastest growing appetite for shopping through mobile devices, as is evident in the frequency they use mobile payment services, said a report.
Third- and fourth-tier cities - those at county level - occupied the entire top 10 list with the highest frequency of mobile payment usage, according to Alipay.com Co, China's biggest online payment company.
Lhasa, the capital city of the Southwest China's Tibet autonomous region, topped the list with 14.48 percent of Alipay users accessing the service via mobile devices. The list has a total of seven cities in western China, including Lhasa, which is less developed than the southern and eastern parts of China.
By contrast, Shanghai, the nation's economic center, had a mobile payment proportion of 8.44 percent last year, according to Alipay figures.
Alipay represented 46.9 percent of the online payment market in the third quarter of last year, according to domestic research company Analysys International.
"The gap between big cities and small ones is narrowing in terms of Internet coverage with the popularity of smartphones," said Zhan Yongsheng, manager of lifestyle services at Alipay, adding that smartphones are more popular and widely used than computers because the latter are more expansive.
"Paying telephone charges while taking a bus, buying a lottery ticket while walking These may probably be the most typical examples of mobile payment in small cities," he said.
Last year the number of people who used payment services through mobile devices more than tripled and the money they spent increased by 546 percent, according to Alipay figures. The number of transactions via mobile devices accounted for 9.2 percent of the total.
However, first-tier cities, such as Beijing, Shanghai and Guangzhou, remain strongest in the sheer size of mobile payment. People in these cities spent an average of 128 yuan on each payment via mobile devices, while those in third-tier cities spent 87 yuan, said Alipay.