Singapore exchange to list RMB equities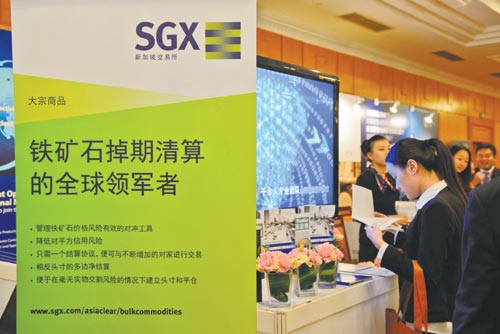 Singapore Exchange Ltd's booth at a futures conference in Shenzhen, Guangdong province, in December. So far, the exchange has listed shares for 140 Chinese companies with a market value of 230 billion yuan ($37.1 billion). [Provided to China Daily]

Officials reveal Chinese shares perform better than others
Singapore Exchange Ltd plans to list renminbi-denominated equities this year, followed by more Chinese currency financial products in 2014, in the hope of building itself into an international RMB offshore hub, the company's CEO said on Wednesday.
Magnus Bocker said trading in renminbi fixed-income products and foreign exchange-related products will be launched next year, and that Singapore would benefit "from the world's increasing interest in the currency" and the growing trade being settled in it.
Singapore has become the second-largest deposit center for offshore renminbi, on the heels of Hong Kong.
"We will continue to reach out to Chinese companies, particularly State-owned enterprises, using our exchange as a platform for accessing global capital and investors," said Bocker.
Based on last year's figures, Bocker added that the liquidity or turnover rate of Chinese enterprise shares already listed in Singapore - also know as the S-chips - was 50 percent better than traditional local and other overseas companies.
"It means Chinese companies are more attractive to investors."
Bocker also revealed that there is an increasing pipeline of Chinese enterprises waiting to apply for initial public offerings on the Singapore Exchange compared with a year ago, but he declined to give exact figures.
In 2012, the IPO price of Chinese companies in Singapore was boosted by around 24 percent, compared with the rise of 13 percent on Shanghai Stock Exchange and 17 percent on Shenzhen Stock Exchange, he added.