Vanke's sales soared 31.9% to 15.2b yuan in March
China Vanke Co, the country's largest property developer by market value, said on Monday that its sales in March reached 15.2 billion yuan ($2.45 billion), up 31.9 percent year-on-year.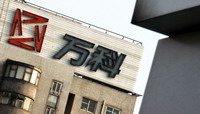 China Vanke Co sees its March sales reach 15.2 billion yuan, up 31.9 percent year-on-year. [Shao Chang / Asianewsphoto] 
The company sold 1.27 million square meters of residential and commercial properties in March, up 15.7 percent year-on-year, it said.
It added that sales in the first quarter were 43.65 billion yuan, up 40.5 percent compared with the same period of last year.
However, the company's sales in February were only at 9.37 billion yuan, a sharp fall from January's 19.07 billion yuan, likely due to the impact from the Chinese New Year holiday, Vanke said in an earlier statement.
Decathlon to team up with Vanke on China expansion
Vanke gauges investor appetite for dollar bond sale
Vanke's net profits surge 30.4% in 2012
Vanke reports sharp growth on property price rebound
China Vanke makes first venture into US market
Vanke to transfer non-RMB share trading to HK