Coming to a screen near you
Independent Chinese app developers face a struggle for survival in the domestic market, despite its size and growing revenue, as Zhang Yuchen reports from Beijing.
A gleam of hope may have lit up the eyes of independent mobile application developers in response to the news that 17-year-old Nick D'Aloisio has officially earned his seat at the cool kids' table by selling his news-aggregator app, called Summly, to the tech giant Yahoo! for a reported $30 million in cash and stock.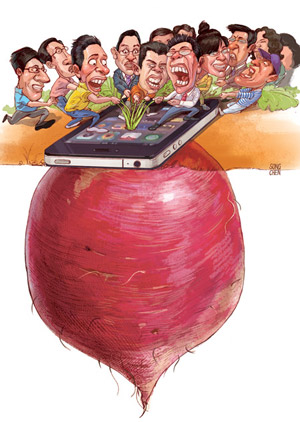 The success of the UK-based high school student, who will also work for Yahoo! at its London base while he continues his studies, has encouraged a legion of small-scale entrepreneurs to create more apps.
However, the success enjoyed by foreign whiz kids such as D'Aloisio seems a long way off for independent developers in China, even though the country has overtaken the United States to become the world's biggest market for mobile devices. Sales of Android- and iOS-based smartphones and tablets in China are estimated to have reached 246 million devices by January. The US came a close second with 221 million.
In recent years, the growth rate for sales of mobile devices has rocketed by 209 percent annually in China, and 150 million new smartphones were sold between January 2012 and January this year, according to a report by the app analytics company, Flurry.
Given the data, it seems strange that even in this successful market local developers are struggling. So how difficult is life for small app developers in China?
Quite difficult, apparently. Most indie developers earn around 1,000 yuan ($161) a month on average. "Unless the app is a big hit in the market, like Summly, it won't bring the riches most people imagine," said Zhang Junming, an independent developer of game apps in Shanghai. Unlike D'Aloisio, whose app summarizes the main points of news stories, few domestic app developers can expect to achieve overnight success. While they are easily able to evaluate the increasing value and opportunities presented by the Chinese market, they also acknowledge that it has specific characteristics, which makes getting rich quick an unlikely scenario.