Middle class willing to spread investments beyond property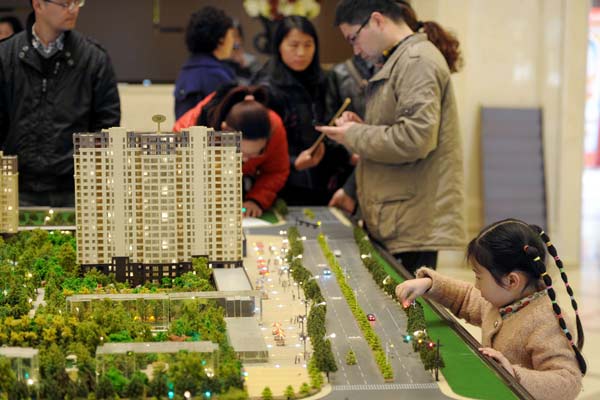 Property buyers look at real estate models in Hangzhou, Zhejiang province. According to a report by Forbes China, 96.7 percent of the Chinese middle class own apartments. [Photo/China Daily]
The Chinese middle class — the main driving force behind national consumption — is growing rapidly and investing in many areas of the economy, not just property.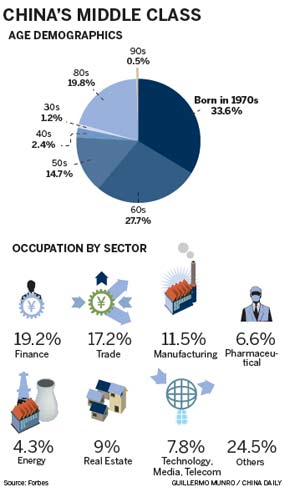 So says a report from Forbes China, which now identifies the country's middle class as those with "investable" financial assets worth between $100,000 and $1 million.
Its Chinese Mass Affluent Group Report 2013, released on Thursday, said their financial assets are spread across cash, deposits, securities, funds, bonds, insurance and other financial wealth management products, as well as individually held property.
Over the past four years, the total financial assets of the Chinese middle class remained at 1.33 million yuan ($213,900) per capita, said Shi Guowei, research director of Forbes China, who co-wrote the report.
The numbers reached 10.26 million by the end of 2012 and are expected to rise to 12.02 million by the end of this year.
Zhou Jiangong, the editor in chief of Forbes China, added: "The Chinese middle class has been overlooked in the past few years, but they are playing a significant role in the economic and social development of the country.
"As urbanization proceeds, the Chinese mass affluent, or the middle class, will of course expand."
Although the examination claims 96.7 percent of Chinese middle class own apartments, and 39.9 percent have three or more apartments, Lyu Qi, the chief wealth management expert at
Beijing
-based wealth management company CreditEase, and a co-writer of the report, warned that the time to quickly accumulate wealth via property had ended.
"The ways the Chinese accumulate their personal wealth have been oversimplified, in that property became the most popular means of investment.
"There really is a lack of diversity in financial products with fixed income due to the country's little-developed interest rate marketization and the infantile asset-backed securitization.
"There is a huge amount of deposits, while domestic consumption has not yet been boosted," said Lyu. "But there will be an undisputable growing need for wealth management products in future."