CCB net profit growth weakest in six years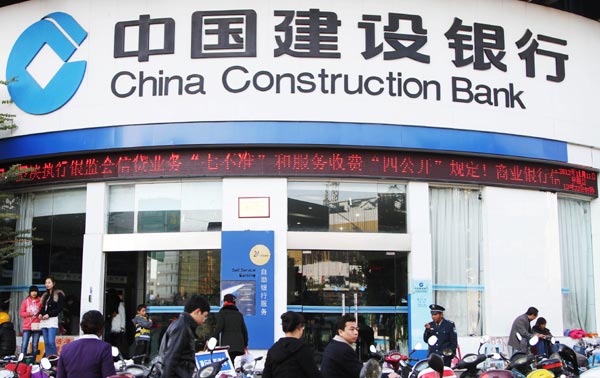 A China Construction Bank Corp outlet in Xuchang, Henan province. CCB, the first major bank in China to report its 2012 earnings, said that its net profit growth was the weakest in the past six years. [Photo/China Daily]
China Construction Bank Corp, the world's second-largest lender by market value, reported a 14 percent year-on-year net profit increase thanks to healthy net-interest income and higher commissions.
CCB is the first of China's major banks to report 2012 earnings. The lender's announcement on Sunday said its net profit in 2012 reached 193.18 billion yuan ($31 billion), up from 169.26 billion yuan in 2011.
Analysts said shrinking lending profit margins after the central bank pushed toward further liberalization of interest rates had made it harder for banks to earn profits in 2012.
CCB's 14 percent net profit growth was the weakest in the past six years.
As lenders are competing to offer premiums over the benchmark rates to attract more funds, their net-interest margin, a major gauge of earning capability, is inevitably shrinking, according to Sun Lai, an analyst with Soochow Securities Co Ltd.
In June 2012, the central bank allowed lenders to widen the discount on the benchmark lending rate to 20 percent, and broadened the limit to 30 percent in July. Meanwhile, banks are offering savers a premium of as much as 10 percent over the benchmark deposit rate.
"Market players need to build up innovative services and products to create more income channels," said Sun.
Increasing defaults and overdue loans have pushed lenders to set aside more provisions to combat the potential risk of bad loans.
CCB raised its provisions by 29.85 percentage points to 271.29 percent last year, according to its annual report.
CCB's non-performing loan ratio was 0.99 percent at the end of 2012, down 0.1 percentage point compared to the previous year, CCB Chief Executive Officer Wang Hongzhang said on Monday.
CCB President Zhang Jianguo said, "In 2013, we will strengthen restructuring of our loan mix, and lower capital costs."
Zhang said the lender's mortgage loans to individuals were the largest among its peers, as the bank reacted to Beijing's call to meet borrowing demand from first-time home buyers.
CCB is the largest lender to homebuyers in China, according to its statistics.
Corporate loans at the end of 2012 accounted for 66.07 percent of CCB's total loans, down slightly from 67.74 percent in 2011.
CCB's net-interest margin, a primary gauge of banks' lending profitability, was 2.75 percent at the end of December, compared with 2.7 percent in 2011 thanks to better pricing power in new lending, the bank's statement said.
The statement also said Central Huijin Investment Ltd, the lender's largest shareholder, increased its stake in CCB when it bought 170 million shares in the bank in the fourth quarter of 2012. By the end of 2012, Central Huijin Investment Ltd held 57.21 percent of CCB's shares.
wuyiyao@chinadaily.com.cn