New Chinese tourism program launched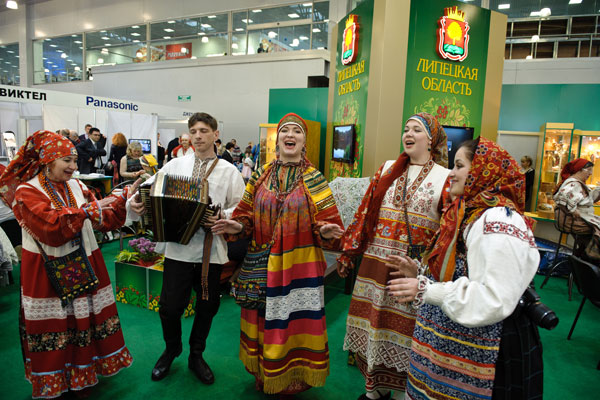 Performers dance at the Eighth Russian International Tourism Fair in Moscow on March 16. This year marks "The Year of Chinese Tourism" in Russia. Jiang Kehong / Xinhua
Yearlong program expected to attract more Russian visitors
Chinese travel agencies hope the opening of "The Year of Chinese Tourism" in Russia could attract more Russian tourists to China after the number dropped last year.
The yearlong program was launched by President Xi Jinping and his Russian counterpart, Vladimir Putin, on Friday night in Moscow, aiming to boost tourism and exchanges between the two countries.

In 2012, "The Year of Russian Tourism" in China saw the number of Chinese visitors to Russia reach 343,000, up 47 percent from 2011.
However, due to rising prices in China and the floating exchange rate, the number of Russian tourists to China decreased a little in 2012, said Wang Taixiang, Trip of Garden International Tour's vice-general manager.
Chinese travel agencies are trying to develop new destinations for Russian visitors besides their traditional ones such as Beijing and the resort island of Hainan, said Wang, whose company has focused on the Russian market for 17 years.
Hainan received 120,000 Russian visitors in the first seven months of 2012, slightly less than in the same period in 2011, according to official statistics.
"This year, we hope the Chinese tourism program in Russia could bring more Russian tourists to China and actual benefits to us," Wang said.
Around 300 events will be launched this year to help people know more about the tourism resources in the two neighboring countries, while Chinese companies are welcome to invest in Russian tourism infrastructure, such as the construction of hotels and roads, Alexander Radkov, head of the Russian Federal Agency for Tourism, told Xinhua News Agency.
Self-driving tours from Moscow to Beijing and student exchange programs will also be promoted, and the two countries have signed about 40 language training agreements to ease the supply shortage of qualified tour guides, Radkov said.
The goal of raising the total number of cross-border visits from 3.3 million in 2012 to 5 million by 2015 is likely to be realized, Radkov added.