China Telecom aims to recruit 30m new 3G Internet users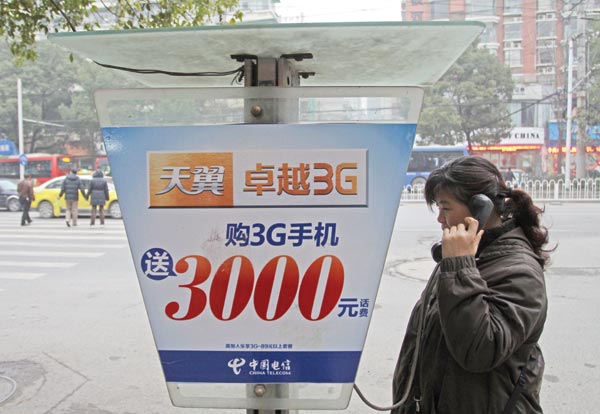 An advertisement for China Telecom Corp's 3G service in Wuhan, Hubei province. The company had 69.05 million 3G users by the end of 2012, compared with 36.29 million in 2011. [Photo/China Daily]
Profit falls from rising costs despite jump in number of subscribers
China Telecom Corp Ltd said it has set a target of recruiting 30 million new 3G subscribers to its mobile service this year.
The telecom services provider, the third-largest in China, released its annual results on Wednesday. Its net profit fell 9.5 percent to 14.9 billion yuan ($4.6 billion) in 2012, compared with 16.5 billion in the previous year, while operating revenue grew 15.5 percent from 245 billion yuan in 2011 to 283 billion yuan last year.
Earnings per share dropped 9.5 percent to 0.18 yuan, according to the report. The company offered a dividend of HK$0.085 per share, the same as last year.
China Telecom saw a 27 percent year-on-year increase in its overall mobile subscribers, reaching 160.62 million by the end of 2012.
Among them, 69.05 million, or 43 percent, were 3G users, compared with 36.29 million in 2011. Average revenue per user climbed 2.8 percent from 52.4 yuan to 53.9 yuan last year.
Meanwhile, its mobile service revenue increased 36 percent to 92.8 billion yuan, while revenue from mobile data stood at 43.6 billion yuan, up 47.3 percent.
However, rising costs cast a shadow over the company's performance. The year saw the telecom giant's operating expenses rise 18.5 percent to 262 billion yuan, while its free cash flow tumbled 39.4 percent to 12.4 billion yuan from the previous year.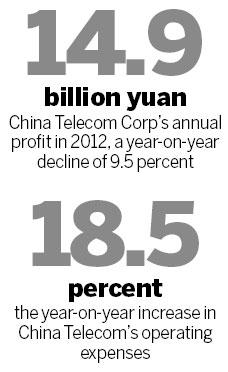 China Telecom Chairman and CEO Wang Xiaochu said that the company, which started selling the Apple iPhone in the second quarter of 2012, increased its marketing expenditure in order to grab a bigger slice of the high-end market.
It also completed a deal to acquire CDMA network assets from parent company China Telecom Corp at year-end, spending 84.6 billion yuan.
"It's common for telecom companies to see lower profit in the first year they cooperate with Apple. We did that for the sake of long-term development," Wang said.
In terms of the outlook for 4G, Wang said the company, along with other market players, is still waiting for the authorities to issue the first license.
"We would not spread the 4G network across the country, but focus on only key cities," Wang said.
"We have a wide-coverage 3G network. Given the experience of foreign peers, we expect 3G and 4G services to coexist in the country."
He also confirmed that if it wins the right to develop 4G services, China Telecom will boost its investment in infrastructure this year, and that would be financed by its listed arm rather than the parent company.
Patrick Shum, a fund manager at Tengard Fund Management, said the prospects for China Telecom were uncertain as the telecom network operator has to invest heavily in 4G.
"There is no guarantee that it can attract more customers ... due to the stiff competition in the mainland telecom market," Shum said.
Oswald Chan contributed to this story.
emmadai@chinadailyhk.com