Geely profits soar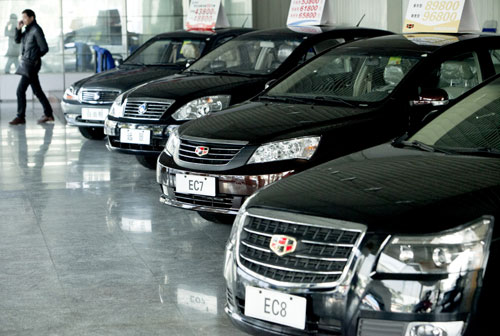 The Geely Automobile Holdings Ltd Emgrand EC7 vehicle is considered one of the safest Chinese cars. [Photo/ Bloomberg] 
Geely Automobile Holdings Ltd, the publicly traded unit of China's biggest private automaker, has reported a strong sales performance for 2012, thanks to a doubling in exports.
The company's net profits climbed 32 percent to 2.04 billion yuan ($328 million), compared to 1.54 billion yuan in 2011. Total revenue rose 17 percent to 24.6 billion yuan.
It more than doubled its exports during the year, compared with a decline in local sales.
Geely is projecting vehicle sales to rise 16 percent to 560,000 this year.
Chinese automakers have been losing market share at home on continued concerns over quality and as foreign automakers introduce lower-priced models.
Another notable success on the export front has been BYD Co Ltd, China's biggest maker of electric vehicles, which won its largest overseas order from Iraq at the end of last year, in a deal which will allow it to sell 6,000 vehicles to the war-torn country.
BYD also won approval in January from the European Union to sell its electric buses in all member states without the need for individual national permission.
In December, the automaker agreed to set up a joint venture with Bulmineral Ltd to produce electric buses in Bulgaria, and it said it expected to export 8,000 electric vehicles to Europe and America.
China last year exported 1.02 million automobiles, up 20 percent from 2011.