Geely to set up facility in Sweden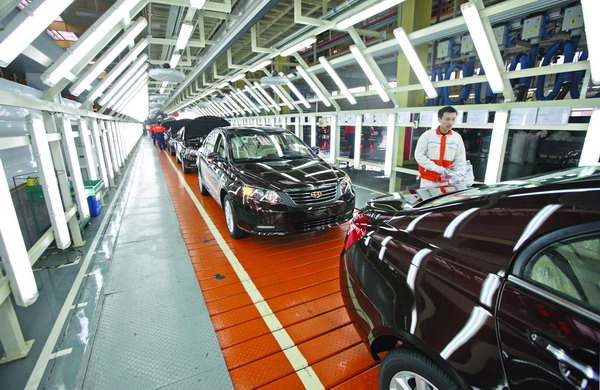 A worker conducts final inspections at Geely Automobile Holdings Ltd's assembly facility in Cixi, Zhejiang province. According to analysts, the carmaker's latest investment in a R&D center in Sweden will help Geely compete with global players.[Photo / China Daily]
New R&D center will help company learn from Volvo
Zhejiang Geely Holding Group, the parent company of Volvo Car Corp and Geely Automobile Holding Ltd, said on Wednesday that it will establish a research and development center in Gothenburg, Sweden.
The center will develop modular-architecture designs and sets of components for C-segment cars, addressing the needs of both Volvo and Geely, and leveraging Volvo's technological know-how, it said.
The facility, expected to be operational by the end of the year, will have about 200 full-time employees.
According to Mats Fagerhag, the chief executive officer of the R&D center and a vice-president of product strategy with Volvo, the facility will recruit about 50 Chinese engineers by the end of the year and 100 more in 2014.
He said that it's too early to estimate the total investment in the center.
"Apart from the investment in the facility, the headcount and operational costs will reach 300 million yuan ($47.68 million) to 400 million yuan a year," said Fagerhag.
The R&D center is an important part of the company's strategy, said Li Shufu, Geely's chairman.
"Our group has ambitious goals to increase the competitiveness of our brands," Li said.
"Geely will continue to improve its product quality in the years to come and can learn from Volvo.
"The sharing process of knowledge and technology has to protect brand integrity and individual product development. We believe a stand-alone, yet joint, R&D center with a focused approach is the best way to achieve this," Li added.
The research will not only deliver world-class technologies, but also considerable cost savings in terms of development, testing and sourcing, leading to the achievement of significant economies of scale, said Fagerhag.
He added that the development of new modular-architecture designs will also involve research for new-energy vehicles. "Modular design allows different vehicle platforms to be developed from one single architecture, thereby ensuring tailor-made solutions for both brands," said Fagerhag.
Therefore, "Volvo will maintain its premium quality and brand, as well reinforce its leadership in China, the world's largest automobile market, by adding Geely's rich experience in Asian markets, and Geely shall meet the demands of the high-volume segment in China and selected international markets," Fagerhag added.
Analysts said that setting up overseas R&D facilities is the best way for Chinese automakers to close the gap with foreign rivals in the global market.
"For Chinese automakers ... an overseas R&D facility is necessary for them to compete with foreign players, and gives them a better understanding of the local markets, technology standards and policies," said Sun Muzi, an auto analyst with Essence Securities.
lifangfang@chinadaily.com.cn
Geely, Volvo to jointly set up R&D center in Sweden
Geely leading China bids for US' Fisker
Geely posts sales and stock surge