Telecom giant on lookout for overseas M&As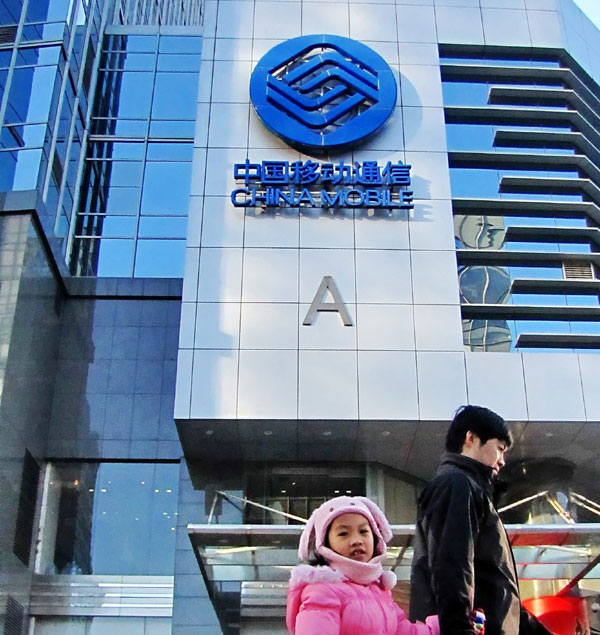 China Mobile Communications Corp's headquarters in Beijing. [Photo/China Daily]
China Mobile looking for target with positive 'business synergy'
China Mobile Communications Corp, the parent company of the world's biggest mobile operator by subscriber, is seeking merger-and-acquisition opportunities in the global market, the company's chairman said.
Compared with counterparts in the energy, manufacturing and financial industries, Chinese State-owned telecom operators have fallen behind in terms of overseas expansion.
The only acquisition by a Chinese telecom carrier was made in 2007, when China Mobile bought Paktel Ltd, a money-losing Pakistani carrier, for $284 million from Millicom International Cellular SA.
"The Pakistan case set the precedent for Chinese operators going global," said Xi Guohua, China Mobile's chairman, on the sidelines of the annual session of the 12th Chinese People's Political Consultative Conference National Committee.
The company was renamed China Mobile Pakistan, or CMPak, and its services were rebranded in 2008 as Zong.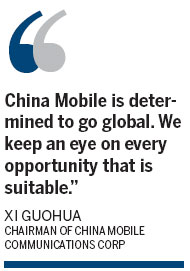 "China Mobile is determined to go global. We keep an eye on every opportunity that is suitable," Xi said. He added that he can't elaborate because of financial rules that govern a listed company.
Premier Wen Jiabao reiterated the "going out" strategy on Tuesday, when he delivered the government work report to the annual session of the National People's Congress. Wen encouraged Chinese companies to invest overseas and conduct global operations.
Xi said there are many M&A opportunities, whether the global economic climate is good or bad. "But it is very difficult for telecom carriers to make M&A decisions because we are not manufacturers, which finish every deal and that's all," he said, adding Telecom carrier's M&A's could be a long-term investment.
"The process can be rather complex. We consider not only returns, but also local policies, laws and cultural differences. Besides, the M&A target should have a business synergy with China Mobile," Xi said.
According to China Mobile's 2012 interim report issued in August, the company, which is one of China's most profitable State-owned enterprises, had cash and cash equivalents of 96.4 billion yuan ($15.5 billion) as of June 2012.
Wang Jianzhou, former chairman of China Mobile, said in an interview with China Daily last year said that China Mobile hoped to become a minority shareholder in telecom carriers in the European or North American markets.
"We would like to be strategic investors (in them)," Wang said.
He also said that the company's experience in China and Pakistan will boost its confidence in stepping into other overseas markets.
shenjingting@chinadaily.com.cn