Water projects to be expedited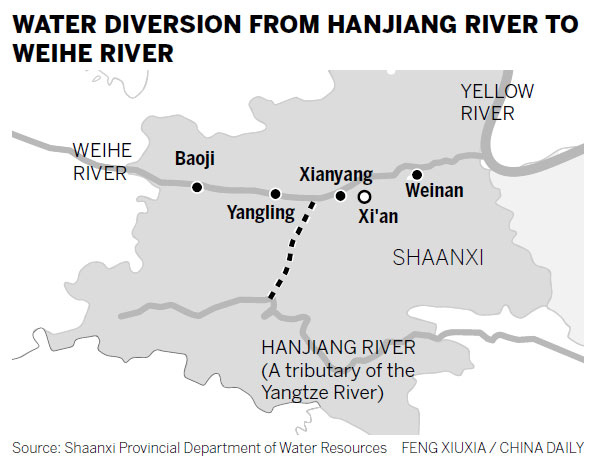 Shortages in Shaanxi show need for development of diversion plans
Construction of 10 key water projects will be accelerated in Shaanxi province in the next decade, after water shortages caused a bottleneck in its sustainable development plans.
One of the projects will see 1.5 billion cubic meters of water diverted annually from the upper reaches of the Hanjiang River, a major tributary of the Yangtze, to the Weihe River, the largest branch of the Yellow River. Officials say the plan is the largest single water supply project in the province's history.
Announcing the details in Beijing, Shaanxi Governor Lou Qinjian said the project stretches some 100 kilometers from south to north and will supply water to five large and medium-sized cities, including Xi'an, Baoji, and Xianyang, and 12 counties.
"The project will satisfy the water demands of 10 million people by 2017, and be completed by 2030," he said.
Shaanxi has suffered water shortages and uneven supply for years. Its per capita share of water is half the national average with 70 percent of its supply concentrated in the southern parts of the province.
Wang Feng, the head of Shaanxi Provincial Department of Water Resources, said 56.6 billion yuan ($9 billion) had been invested in the construction of water conservancy projects over the past five years.
Shaanxi's rural tap water access rate had increased from 34.4 percent in 2005 to 77 percent in 2012, and last year problems affecting the drinking water supply of 18.47 million local residents were solved, according to department figures.
"Great efforts have been made to reduce soil erosion in small and medium-sized rivers, and ensure water quality is up to standard," Wang said.
Lou said that the province had maintained strong economic and social development growth over the past five years, although the global financial crisis and serious natural disasters had presented significant challenges.
In 2012, Shaanxi's GDP was worth 1445.12 billion yuan.
Its total fiscal revenue reached 280.01 billion yuan, equaling the total amount of the previous five years.
Total investment on fixed assets over the period was 4,280 billion yuan, including a number of key energy and telecommunication projects, as well as urban construction, Lou added.
Since 2011, 80 percent of Shaanxi's annual total fiscal spending has been on improving people's livelihood, such as social security, government-subsidized housing, education, and public health, he said.
"But the government fully recognizes that Shaanxi is less developed compared with some provinces and regions in China and still needs long-term investment in some important sectors," he said.
jinzhu@chinadaily.com.cn