NZ's Fonterra milk powder 'not culled' in China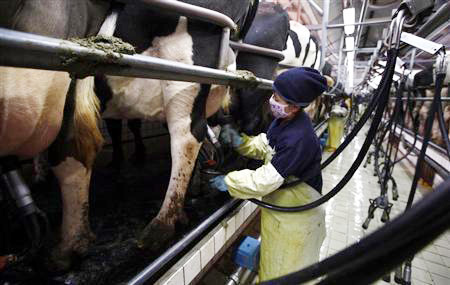 Workers attach milking machine cups to cows in the milking shed of the 35-hectare farm managed by New Zealand dairy export giant Fonterra Co-operative Group in Hangu County, near the city of Tangshan around 250 km east of Beijing in this March 15, 2012. [Photo / Agencies]
Fonterra, the world's largest dairy exporter, said none of its products had been destroyed in China as it sought to allay concerns fuelled by reports that milk powder imports from New Zealand had been culled there.
Initial worries that New Zealand milk powder had been destroyed weakened the New Zealand dollar on Tuesday. The safety of the country's milk products is a sensitive issue for the local currency as dairy products account for around one-third of the country's exports.
Chinese media in recent days reported on spoiled products destroyed or rejected by China's food quality authority, or AQSIQ, in November and December, including Chinese brands of infant formula made with powder imported from New Zealand that did not conform to Chinese product specifications.
The AQSIQ also culled batches of Herobaby milk formula imported from Europe that were found contaminated with salmonella, as well as 210 metric tons of Anhydrous Milk Fat from New Zealand and cheddar cheese made by Kraft Foods, both of which had passed their expiration dates, according to the original report in the Nanfang Daily.
"(The AQSIQ's) latest list, published yesterday, refers to a sum total of 97.2 kilograms (of formula) - that's less than four bags of bulk export product," Kelvin Wickham, Fonterra's managing director of Greater China and India, said in a statement on Tuesday.
"None of the items mentioned by AQSIQ were Fonterra products," he added.
Related Readings
New Zealand milk scare pinches Chinese consumers

Fonterra sets up Shanghai innovation center

New Zealand dairy giant unveils plans for more farms in China

Emerging markets drive record exports for NZ dairy giant