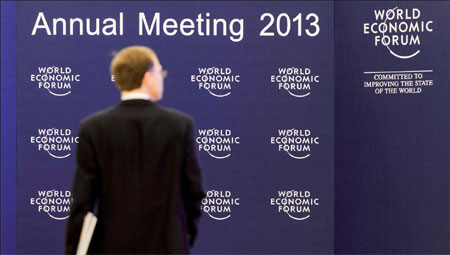 The annual Davos forum brings together academics, politicians and business and media leaders, and this year there were about 50 national delegations. [Photo/China Daily]
Hard economic decisions are still to be made, Davos meeting told
Five years after the financial crisis began, the changes required to make the world's financial structure sustainable have still not been made, says Zhu Min, deputy director-general of the International Monetary Fund.
With "all the debates going on" the financial structure has changed very little, Zhu said at the onging World Economic Forum in Davos, Switzerland.
Financial institutions and regulators have done much over the past five years, but overall there is a long way to go, he said.
"We are not safe yet."
He cited financial markets that he said have little changed, and more than 200 million people out of work.
China's territorial dispute with Japan, the new Chinese leadership and the country's economic sustainability have been prominent issues at the six-day annual forum in the Swiss ski resort.
China has a low-profile delegation led by the Vice-Minister of National Development and Reform Commission Zhang Xiaoqiang at the gathering, due to end on Jan 27.
It brings together academics, politicians, business and media leaders, and about 50 national delegations. The delegations from Russia, South Africa, Britain and Iceland are headed by their country's leaders.
More than 2,500 participants from more than 100 countries have been attending, with more than 1,500 business leaders from the forum's 1,000 member companies, and what are billed as social entrepreneurs, global shapers, young global leaders and representatives from civil society, media, academia and the arts.
Zhu said that the big issue for the financial sector is that banks are still too big. The banking sector accounting for more than 60 percent of the world's GDP is still too highly leveraged, and financial products are too complicated for outsiders to understand, he said.
"We are making a huge mistake. Five years later we are still debating whether we have too much regulation or too little regulation," he said.
Even as old problems remain unresolved, new challenges are emerging, and care needs to be taken, he said. The debt problem raises questions over financial stability, and low interest rates may make investors take more risk.
"In Europe, the tail risk has been moved off the table, but issues are still there. There is a long way for Europe to go."
Countries such as Greece, Ireland, Spain and Portugal still face funding pressures, he said.
Zhu's concerns were echoed by others, including Axel Weber, chairman of the Swiss bank UBS.
"We are heading into a very dangerous environment where we have been over-leveraged," said Weber. "We are living now at the expense of the future generation. The established world is trying to solve a problem down the road by making it bigger. It is not going to work."
Paul Singer, principal of Elliot Management, a hedge fund, said policies of monetary easing can be distorting in solving long-term problems.
"What (they are) doing is distorting the price of debt, the equity market and everything related, and giving an excuse not to pursue growth-oriented issues," he said.
Joseph Nye, a professor at Harvard Kennedy School, said he was concerned about security in East Asia. While efforts were being made to contain the territorial dispute between China and Japan, "there are factors what may lead the situation out of control", he said. "That is my major worry."
The US has a stake in the region and wants good relationships with both China and Japan, he said. "This is what the US wants to balance."
Tian Wei, a presenter with China Central Television, who has been in Davos as a media leader and young global leader, said she is encouraged after exchanging ideas and thoughts with participants from Japan.
"This forum is also a note-comparing opportunity for civil society. After talking with two Japanese friends, I have felt some relief," she said.
Her Japanese friends believe that internal politics had exacerbated the dispute between China and Japan, she said.
"I have heard encouraging, refreshing and constructive voices that are different from the political stances and some media reports. I think there is a peaceful way out of this crisis."
Li Jingtian, vice-president of the Party School of the Central Committee of the Communist Party of China, said there are many encouraging signs that China's new leadership, spearheaded by Xi Jinping and Li Keqiang, are doing a good job.
"They have shown concern about sustainable development, people's livelihoods, reform and opening-up, and the rule of law. I have found the leadership is winning trust from the people."
Iceland President Olafur Ragnar Grimsson said he finds the vision of China's new leaders encouraging, as is their open attitude to the rest of the world. Grimsson said that having met Party chief Xi Jinping several times in recent years, he felt he was a visionary figure.
"So I think China, under the new leadership, can deal well with the outside world and continue the momentum of win-win cooperation with my country and other countries."
Russian Prime Minister Dmitry Medvedev said in a speech that his country needs to "create a competitive environment, both domestically and globally", including greater political competition, improving business efficiency and services such as healthcare and education.
In a poll of 450 participants at the meeting, 78 percent said good governance should be the Russian government's top priority in the coming years. Medvedev said he is not surprised by the poll because it reflects the dominant global opinion of Russia.
"I'll be frank with you. I voted for a different option." Improving "the efficiency of our public bodies" is one of the nation's top concerns, he said.
Contact the writers at fujing@chinadaily.com.cn and diaoying@chinadaily.com.cn