Labor authorities nationwide are keeping an eye on businesses that have been known to withhold wages to prevent thousands of migrant workers from being cheated before Spring Festival.
Officials have unveiled a variety of measures to ensure salaries are paid on time for the annual Lunar New Year holiday, including fines for bosses who are late and special funds to cover laborers left in limbo.
In Beijing, inspections by human resources and social security departments are focusing on the construction, catering and other labor-intensive sectors.
More than 560 employers have been punished for delaying salaries since December, and more than 48 million yuan ($7.62 million) in overdue salaries was paid out to almost 5,300 migrant workers, People's Daily reported.
Harbin, Heilongjiang province, has set aside 20 million yuan to pay workers who don't get paid this month. Law enforcement officers have been ordered to pressure offenders to pay up and pledged that all workers will get their money by Feb 3.
In Shijiazhuang, capital of Hebei province, five companies that were found in arrears have been blacklisted and banned from operating in the city.
The city government launched a campaign in November and has retrieved more than 47 million yuan in wages for 7,700 workers.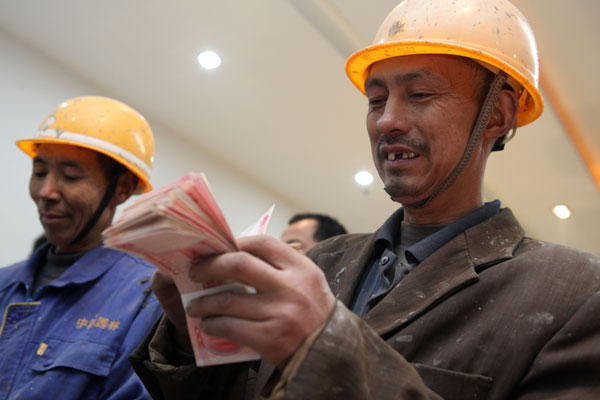 Migrant workers receive their pay at a construction site in Dazu district, Chongqing, on Dec 26. More than 150 workers at the site received a total of 2.2 million yuan ($350,000) of wages that day. [Photo/LUO GUOJIA / FOR CHINA DAILY]