BEIJING - China's retail sales grew 15.2 percent year-on-year in December 2012, accelerating from 14.9 percent in November, the National Bureau of Statistics said Friday.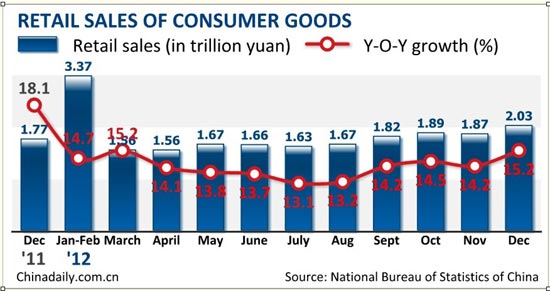 The retail sales for 2012 increased 14.3 percent, 2.8 percentage points less than in 2011, the NBS said.
Of the total, urban consumption expanded 14.3 percent to 17.9 trillion yuan in 2012, while rural residents spent 2.8 trillion yuan, up 14.5 percent.
The catering sector reported 2.3 trillion yuan in revenues, up 13.6 percent from a year earlier, while the retail goods trade was valued at 18.4 trillion yuan, up 14.4 percent.
On a month-on-month basis, retail sales climbed 1.53 percent in December, the NBS data showed.
After being adjusted for inflation, retail sales went up 13.5 percent in December and 12.1 percent in 2012, respectively.
Special Coverage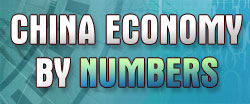 Related Readings
China's retail sales to accelerate in 2013
Retail sales to surpass 20t yuan in 2012
China retail sales up 14.2% in first 11 months
China's retail sales to top $3.21trln this year
Retail sales up 14.1% in first ten months