A lack of candidates for high-level research and development positions is hampering attempts to boost innovation, companies in East China have found.
To maintain the country's rapid development, building an economy based on knowledge and innovation has become a goal.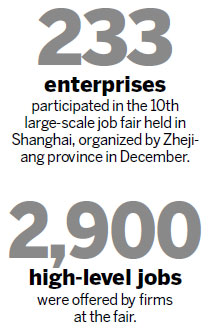 However, the supply of research and development professionals is failing to meet demand among small and medium-sized firms.
"Our company is in a period of rapid development, and we need more people to help boost our expansion in the long run," said Lu Lingling at Ningbo Jiangfeng Electronic, which manufactures integrated circuits in Zhejiang province.
"But the number we have managed to recruit is barely enough for our needs."
She said the company organizes recruitment activities at universities each year, placing particular emphasis on candidates with higher degrees.
Human resources authorities in Zhejiang, a province with many private companies, have spent a lot of effort in recent years to attract talent from home and abroad.
In December, the province organized its 10th large-scale job fair in nearby Shanghai.
According to authorities, 233 enterprises offered more than 2,900 high-level positions, attracting applications from more than 5,800 job seekers.
The positions were in many fields, including the mechanical industry, new energy, finance and agriculture. Almost 30 percent were in the high-tech field, and 14 percent were management-level positions.
About 1,805 applicants reached preliminary agreements with employers, and 178 signed contracts during the fair.
Candidates holding doctorates were the most in demand.
About 43 enterprises, including Wangxiang Group and Wolong Holding Group, started 212 post-doctoral programs, expecting to recruit 279 people.
To attract high-level talent, enterprises offered a variety of incentives, such as large amounts of research funding, a good research environment and help in resettling families and children.
Despite this, many companies said they still experienced difficulty finding many professionals suitable to their company's development.
"Geographical factors, information asymmetry, not being familiar with enterprises' needs ... many reasons lead to the difficulty in finding appropriate applicants," said Huang Yuzheng at Ningbo Xingaoyi Magnetism.
"Employers and the employment departments of universities should help graduates have more job information when they start looking for a job," said a graduate student named Wang, who was looking for a job in mechanical design.
"In addition to the working environment, consideration should be given to the living environment and children's education."
Yuan Zhongwei, deputy director of the Human Resources and Social Security Bureau of Zhejiang province, said high-level talent is needed in the future.
"The establishment of the Zhejiang Ocean Economic Development Zone, Zhoushan Islands Area and Yiwu International Trade Reform Zone will stimulate demand for talent in Zhejiang," Yuan said.
It's expected that the province will need up to 1.6 million highly skilled employees by 2015.
Contact the writer at wanghongyi@chinadaily.com.cn