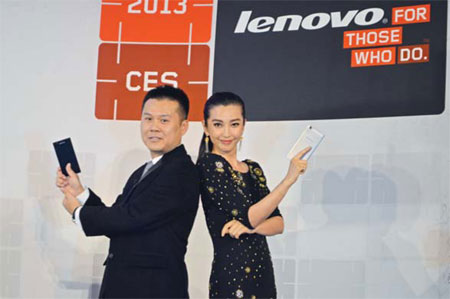 Chen Xudong, senior vice-president and general manager of Lenovo China, and actress Li Bingbing show a Lenovo smartphone at the International Consumer Electronics Show in Las Vegas on Tuesday. [Photo / China Daily]
Lenovo Group, the Chinese multinational maker of desktops, laptops, tablets and mobile phones, said it hopes its upcoming restructuring can gain more traction in the high-end market.
Yang Yuanqing, chairman and CEO of Lenovo, said the company will split into two groups: the Idea Group and the Think Group. The first division will concentrate on mainstream products, while the latter will be the company's flagship brand to compete against Apple.
At the International Consumer Electronics Show in Las Vegas, Yuan said the company needs to perform better in the high-end market of businessmen and enterprises.
"Lenovo's revenue has grown from $1.3 billion to almost $30 billion over the past four years. Our growth needs a restructuring ... (that's why) we established the Think and Idea groups last week," he said.
Lenovo has performed well since acquiring IBM's personal computer business in 2004. According to Gartner, a US tech consulting firm, Lenovo has stayed a step ahead of market growth and is set to surpass HP to become the top player in the computer market, although market research firm International Data Corp said HP was still leading in the third quarter last year.
But Lenovo already has a large market share of the Chinese market, prompting the company to shift attention to the high-end market.
Gerry Smith, president of Lenovo North America, said the company is the fastest growing PC company over the past 10 quarters in North America.
According to its financial results for the fiscal quarter that ended on June 30, Lenovo's shipments to North America grew by 8.6 percent against an overall drop of 10.3 percent for the industry. It achieved $1.18 billion in sales in North America for the quarter, which amounted to 14.7 percent of its global sales and less than one-third of its sales revenue from China.
Smith said Lenovo's next growth phase includes investments in sales channels. Over the past 15 months, it has increased the number of retail stores in the continent by 10 times to more than 4,000 stores. Sales of PCs priced over $799 accounted for approximately 50 percent of sales in North America.
"We'll also keep investing in innovation and brand awareness," Smith said.
At CES, the most important technology-related trade show in the US, Smith said the financial uncertainties in the US may pose challenges for the electronics company's ambitions.
"The biggest challenge we face now are the financial uncertainties in the US. Big companies are waiting to see what happens before they decide to buy," he said.
Yang also said the company's strategy is to grow locally in order to better serve customers and utilize local resources and create jobs.
Lenovo announced in October that it would set up a plant in Whitsett, North Carolina, and hire 115 employees.
Gianfranco Lanci, senior vice-president of Lenovo in charge of the company's Europe, Middle East and Africa regional markets, said Lenovo will rise to become the top company for the trio of markets next year. Currently, Lenovo ranks third, in terms of sales, in the expansive region after Acer and HP.
The former Acer CEO stressed that the EMEA region is a combination of mature and emerging markets. It is Lenovo's largest geographical coverage, which includes 121 countries and 40 offices with more than 1,800 employees.
Its sales from the EMEA region in the first fiscal quarter were $1.58 billion with a year-on-year growth rate of 62 percent.
wangjun@chinadailyusa.com