Trade between China and the Association of Southeast Asian Nations reached a record high of $400.9 billion in 2012 and the biggest progress in trade facilitation was a consensus on the launch of the Regional Comprehensive Economic Partnership.
Sino-ASEAN trade was up 10.2 percent year-on-year, compared with the country's total trade growth of 6.2 percent in 2012.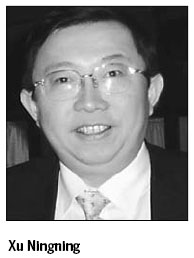 As ASEAN's biggest trading partner, China saw the fastest growth in trade with the bloc last year.
Set up in 1967, ASEAN comprises Brunei, Cambodia, Indonesia, Laos, Malaysia, Myanmar, the Philippines, Singapore, Thailand and Vietnam. It has a total area of 4.44 million square kilometers and a population of 576 million.
In 2013, the main task in further boosting bilateral trade is to strengthen communication and complementarity among the different industries in the two economies.
Duty-free policies do not automatically translate into common economic growth. To allow zero-tariff policies to support mutual growth, we need to take the important step of developing industry chains and having complementary advantages among trading partners.
Attaching greater importance to industrial cooperation, which is still in its infancy between China and ASEAN countries, is the way to achieve true mutual development.
To develop the economic relationship between China and ASEAN countries, measures are needed to further open the goods-trading market and eliminate tariffs for more products over the next few years.
For example, coffee with medium-sized beans is one of the products that China imports from ASEAN countries. However, there's still an 8 percent tariff on the product, which should be under a duty-free policy.
Huge market demand and different groups of consumers in China have provided increasing opportunities for companies from the ASEAN bloc. The trade in chemical, mechanical and transportation equipment products is seeing fast growth, and those products have the biggest potential for complementary development.
China and ASEAN countries signed the Framework Agreement on Comprehensive Economic Cooperation in November 2002 and slashed tariffs substantially on more than 500 types of products in 2004.
The China and ASEAN Free Trade Area, or CAFTA, came into effect in January 2010.
A year after its full implementation, China surpassed Japan and the European Union for the first time, becoming ASEAN's biggest trading partner.
Sino-ASEAN trade reached $292.8 billion in 2010, up 37.5 percent year-on-year. China's imports from ASEAN countries increased 44.8 percent to $154.56 billion in the same year. In 2010, ASEAN became China's fourth-largest trading partner, following the EU, the United States and Japan.
In 2008, China was only ASEAN's third-largest trading partner. Their trade value reaching $192 billion, accounting for only 11 percent of ASEAN's total foreign trade.
The ASEAN-China Center estimates that ASEAN is likely to become China's biggest trading partner in the next two to three years.
ASEAN and China, Japan, the Republic of Korea, India, Australia and New Zealand recently announced a consensus on the official establishment of the Regional Comprehensive Economic Partnership, or RCEP, in August last year. It will be the biggest free-trade market in the world.
With half of the consumers in the world and one-third of the global GDP value, the RCEP starts its negotiation procedure this month. The talks among 16 countries are scheduled to be completed by 2015.
RCEP is the newest outcome of the regional economic integration process and will have direct influence on regional economic cooperation and development, bringing new opportunities and difficulties for companies from different countries.
The author is the executive secretary-general of the China-ASEAN Business Council.