BEIJING - China's consumer price index (CPI), a main gauge of inflation, grew 2.5 percent year-on-year in December, the National Bureau of Statistics announced Friday.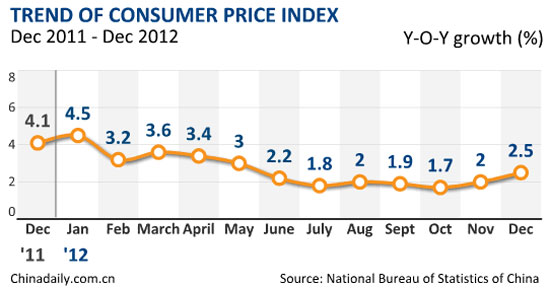 The inflation rate increased from 2 percent in November and a 33-month low of 1.7 percent in October as food prices jumped.
On a month-on-month basis, December's CPI rose 0.8 percent from the previous month, according to a NBS statement.
"The notable jump in December's CPI was largely attributable to a surge in food costs, especially vegetable prices," said Yu Qiumei, a senior statistician with the bureau.
Food prices, which account for nearly one-third of the weighting in the calculation of China's CPI, rose 4.2 percent in December from one year earlier, pushing the CPI up 1.37 percentage points.
China is experiencing unusual cold winter, with national average temperatures reaching a 28-year low. Persistent icy weather has wreaked havoc in south China, disrupting traffic, damaging power facilities and affecting agricultural production.
Vegetable prices jumped 14.8 percent year-on-year in December as chilly weather disrupted vegetable transportation, pushing the CPI up 0.41 percentage points.
Prices for aquatic products gained 6.1 percent from one year earlier, according to the statement.
Excluding food prices, China's CPI edged up 1.7 percent.
"Food prices are likely to rise further due to the impact of the cold weather on vegetable production and transportation as well as the consumption rush during the upcoming Spring Festival," according to Yu.
Wang Jun, an expert with the China Center for International Economic Exchanges, said the country will face greater inflationary pressures in 2013 than in 2012.
"Pork prices will head into a new upward cycle this year. Inflation is likely to rise in the coming months, as a result of rising food prices, higher labor and land costs, quantitative easing in the industrial world and stabilizing domestic economic growth," Wang said.
PPI drops 1.9%
China's producer price index, which measures inflation at the wholesale level, fell 1.9 percent year-on-year in December, the National Bureau of Statistics said on Friday.
This marks the 10th straight month of decline after the PPI dropped in March for the first time since December 2009.
The decline was smaller than the 2.2-percent decrease in November, indicating that the economy has been stabilizing, analysts said. >>> Read More
 Special Coverage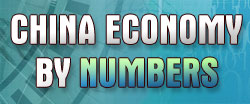 Related Readings
China CPI up 2% in November

CPI to decrease further, PPI to rebound: research

China's foreign trade grew 6.2% in 2012
China's 2012 new loans hit 8.2t yuan