China's soybean imports, leading the strong surge in the country's imports of bulk commodities, hit a historic high by the end of 2012, according to the latest official data.
Imports of edible oil also saw a notable surge, highlighting the country's widening gap in edible oil supply and its increasing dependence on the global market for oil consumption, agricultural experts and industry analysts said.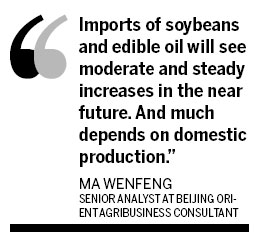 China's imports of the bean surged 11.2 percent to 58.4 million metric tons in 2012 from a year earlier, while its price increased 5.8 percent year-on-year to $599.3 per ton, according to data released on Thursday by the General Administration of Customs.
Imported beans accounted for more than 80 percent of China's total consumption of the crop, the data showed.
The beans were widely used to produce edible oil and animal feed.
Meanwhile, the nation's edible oil imports increased 28.7 percent year-on-year to 6.57 million tons.
Analysts said a number of factors had driven up the country's purchases, including its ongoing urbanization, growing demand from the livestock industry, and Chinese people's dietary shift from vegetables to meat.
In addition, the reduced production of domestic soybeans also put upward pressure on the country's imports.
In 2012, the nation's soybean growing area declined 14.4 percent year-on-year to 6.75 million hectares, and domestic output was expected to fall 11.63 percent year-on-year to 12.8 million tons, one of the lowest yields in recent years, the official data showed.
But analysts said that the country's demand growth will not be as strong in the next few years.
"Imports of soybeans and edible oil will see moderate and steady increases in the near future," said Ma Wenfeng, a senior analyst at Beijing Orient Agribusiness Consultant, one of the industry's largest specialist consultancies.
"And much depends on domestic production," he added.
Besides soybeans, China's imports of other commodities, such as iron ore and crude oil, also registered notable growth.
The country's total iron ore imports reached 743.6 million tons in 2012, up 8.4 percent year-on-year, the data showed.
In the meantime, its crude oil imports rose 6.8 percent in 2012 from a year earlier to 271 million tons.
In 2011, the imports grew 6.05 percent.
China is currently the world's largest crude oil buyer only next to the United States.
zhousiyu@chinadaily.com.cn