China will have 4,000 shopping malls by 2015, a more than 40 percent increase over the present number, according to the latest report by the China Chain Store and Franchise Association.
The country had 2,812 shopping malls with a construction area of 177 million square meters by the end of 2011, said the 2012 Development Report on Cooperation between China Shopping Malls and Chain Brands, conducted by CCFA and Deloitte Touche Tohmatsu Ltd.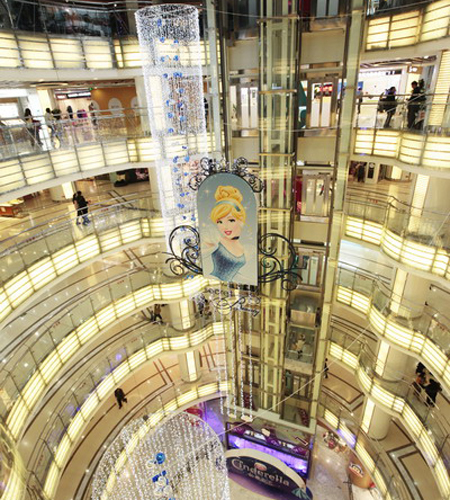 A shopping mall in Beijing's Xidan district. [Photo / China Daily]
"In recent years, the annual compound growth rate for the amount of shopping space in China was around 15 percent," said Guo Zengli, president of the China Shopping Center Development Association. "By 2015, there will be around 300 shopping malls established each year."
The main driving forces behind the new shopping centers are urbanization and the rapid development of China's service industry, and most of the new buildings will be in second- and third-tier cities, said the report.
According to CBRE Group, the world's largest commercial real estate services firm by revenue, eight cities in China - including Shenyang, Wuhan and Chengdu - ranked in the top 10 among 180 major cities in the world with the largest amount of new shopping center space in 2011.
In cities such as Tianjin and Shenyang, shopping malls still under construction each have an area of more than 2 million square meters.
In Chengdu, more than 100 shopping malls have been erected, most of them with an area of more than 100,000 square meters, said the report.
"The greater density of buildings and residents across major cities in China forces developments to be more vertical, typically five or more stories high. In Europe or the US, there are very few centers offering over 100,000 square meters of space, while in China many malls exceed this," said James Hawkey, executive director of retail services for Cushman & Wakefield China, a subsidiary of the New York-based commercial real estate services firm.
With the boom in Chinese shopping centers, difficulties have also arisen, said the report. They include questions as to whether local purchasing power matches the luxury centers, and if the under-construction shopping centers are designed with clear marketing strategies in mind.
"Chinese consumers tend to do more experience spending, such as dining and watching movies, as opposed to just buying goods inside shopping centers, so retailers should increase the proportion of dining and entertainment options," said the report.
"Future shopping malls should concentrate more on lifestyle experience," Guo said.
liwoke@chinadaily.com.cn
More reports on China shopping malls
Retail therapy: more than shopping