Chinese shares closed with a strong rally on Tuesday led by the property sector, as investors believe the country's approaching urbanization initiatives will drive up demand for urban homes.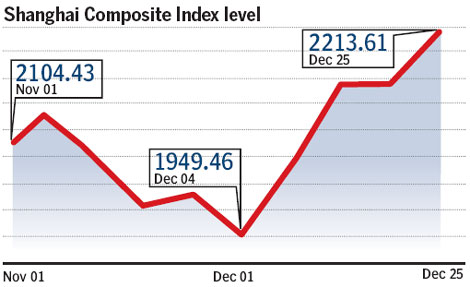 The benchmark Shanghai Composite Index surged 2.53 percent to end at 2,213.61, its highest level since early July, while the Shenzhen Component Index jumped 3.01 percent to finish at 8,891.57 points, its highest since mid-August.
Only 46 stocks saw their prices drop in the two markets, and more than 30 stocks reached growth greater than 10 percent in a single day. Trading in both markets was active, and the value of trade exceeded 100 billion yuan ($15 billion) in each market.
The real estate sector's price rose by 3.78 percent, and about 22 stocks gained more than 5 percent. Five stocks, including the Shenzhen-based Avic Real Estate and Guangzhou-based Pearl River Enterprises Group, saw their prices surge by the market limit of 10 percent in a single day.
The Shanghai-based Shenyin & Wanguo Securities Co suggested on its official micro blog at Sina Weibo that investors concentrate on the general improvement of the property industry and put less weight on policy expectations.
Bank stocks remained strong on Tuesday. Industrial Bank Co Ltd led the rally, rising by 5.89 percent. China Minsheng Banking Corp Ltd, Huaxia Bank and China Merchants Bank all saw their prices increase by more than 4 percent.
"The rebound in the stock market on Tuesday has outrun market expectations. According to the current rhythm, volume and performance of leading sectors, it can be said that the rebound will last for a longer time period than expected," said Zhan Hao, an investment expert in Beijing.
He also predicted the rebound will probably help the Shanghai benchmark reach 2500. Investors are advised to closely watch stocks related to the new economy, regional economy and sectors benefiting from recent policies.
"The recent economic recovery has resulted in the rebound. In general, companies are making profits again, especially State-owned ones. For property companies, they have been doing fairly well in the recent two years, and their sales and housing prices have grown steadily although the central government is tightening its control in this market," said Zhang Qi, an analyst with Haitong Securities Co Ltd.
"The possible unveiling of detailed rules and regulations of China's urbanization has also helped with the rebound in the stock market, as the urbanization process will boost economic development and enhance people's living standards.," Zhang said.
shijing@chinadaily.com.cn