Steady growth, stricter controls on investment to come, says regulator
China's central State-owned enterprises are poised to rebound from eight months of consecutive falls in profit, under a program of steady growth being planned for the coming year.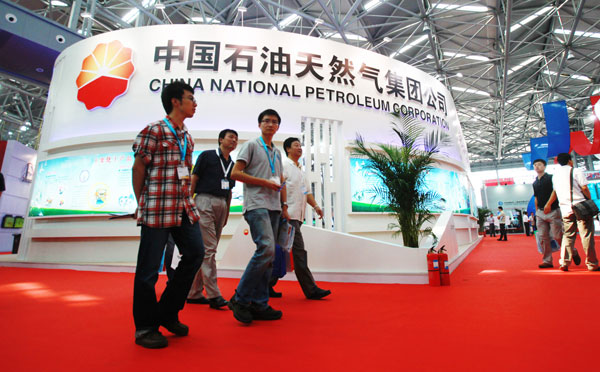 China National Petroleum Corp's stand at a trade show in Tianjin. According to regulators, central State-owned enterprises such as CNPC have been improving their efficiency and sales networks, optimizing production, and controlling expenses. Provided to China Daily 
Addressing a conference involving 118 central SOEs on Monday, Wang Yong, a director of the State-owned Assets Supervision and Administration Commission, promised stricter controls on the scale and direction of investments in 2013, both at home and abroad.
Wang said business efficiency at central SOEs had been improving since September, and that total whole-year profits are expected to grow.
From January to November, central SOEs generated profits of 1.1 trillion yuan ($176.4 billion), almost equal to those at the same stage last year.
Total revenues amounted to 20.1 trillion yuan, rising by 8.9 percent year-on-year, data from the commission showed.
"Central SOEs have seen their profits drop since early this year, influenced by the global economic slowdown and protectionism," said Wang.
During the first quarter of the year, total profits declined by 13.6 percent from a year earlier to 181.37 billion yuan, and they dropped 16.1 percent in the second quarter, he added.
To halt the declining profits, he said central SOEs had been adjusting their operating strategies, optimizing production, improving sales networks, and controlling expenses, particularly in their efforts at expanding overseas business.
"Since the third quarter, several SOE chief executives have reduced their own salaries, and other human resources costs," Wang said.
Amid domestic and foreign market fluctuations, many enterprises have resized their investment projects, in many cases shrinking investment amounts, according to SASAC figures.
Looking ahead, Wang said that while stepping up foreign investment, central SOEs are being encouraged to prioritize key industries and regions, and strengthen their supervision of State-owned assets abroad, focusing particularly on risk prevention.
Wei Jiafu, chairman of China Ocean Shipping (Group) Co, the country's largest shipping, logistics and shipbuilding company, told China Daily that it will continue to seek more investment projects in key foreign markets, particularly port operations in Europe and the United States.
In 2010, the State-owned shipping line paid 500 million euros ($659 million) to lease half of the port of Piraeus, the biggest harbor in Greece, which marked a breakthrough at the time for the Chinese ports and shipping sector.
baochang@chinadaily.com.cn
Related Readings:
Chinese SOE profits decline
SOEs urged to invest overseas but avoid haste
Chinese SOE profits drop 8.3% in Jan-Oct
Chinese lawmakers discuss report on SOE reforms
SASAC backs role of China's SOEs