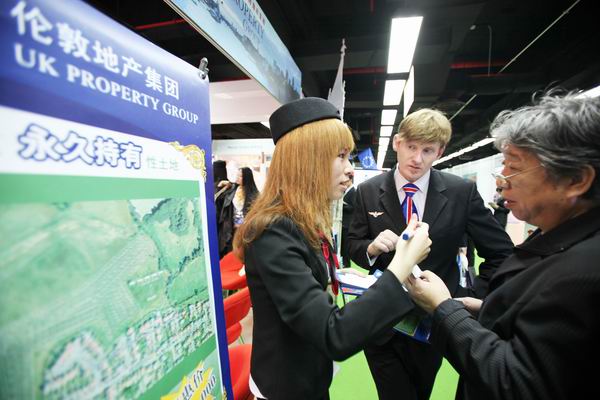 Staff members of a property group in London introduce their houses to Chinese customers at an exhibition in Beijing. [Photo/China Daily]

Sound education, residence permit draw growing interest from affluent families
At the recent Beijing International Property Expo, Wang Jing's eyes widened. At last, her dreams of finding the ideal home for her family were materializing.
The island country of Cyprus, which had a booth at the expo, offered a list of properties at steep discounts. She didn't know much about Cyprus, but that wasn't important.
Four years ago, when Wang gave birth to a boy, she decided that her family needed to buy a home in Haidian district of western Beijing to secure her son's place at a respected primary school in the area.
But as many Chinese homeowners know very well, housing prices in China's capital are through the roof. Frustration set in for Wang and her family.
But at the expo, Wang read about a beachfront apartment on the Mediterranean island. The price was 350,000 euros ($463,000), which is cheaper than many three-bedroom apartments in Haidian district.
"I am considering purchasing one. If my son cannot enroll in the best primary school in Beijing, I can still send him to study at the top universities in Europe 10 years later," the 33-year-old graphic designer said.
Chinese families, ranging from the highly affluent to the middle class' upper crust, are showing a keener interest in purchasing overseas housing.
They are primarily driven abroad not only because of China's soaring housing prices but because of the government's curbs on property ownership in the past two years in an attempt to cool prices. The central government is also studying a nationwide property tax, according to Reuters.
Overseas property markets are now becoming more attractive as a consequence. And many Western countries are taking advantage of the newfound interest.
In September, more than 140 land developers, real estate agencies and immigration agents from outside the Chinese mainland showcased their housing projects at China World Trade Center. That tally was a record for the expo in its 20-year history.
Wei Kefei, a director at the Beijing International Property Expo, said moving abroad, securing a sound education and diversifying asset portfolios are the top three reasons why Chinese are purchasing overseas properties.
"Beijing has good educational resources and that is why apartments are expensive," Wang said.
The numerous promotions being peddled by overseas real estate agencies at the Beijing international expo shed light on the growing interest from Chinese families.
Many countries promoted their properties for the first time at the biggest annual housing event in Beijing. The largest international exhibition group with more than 30 booths was Cyprus, an island country in the eastern Mediterranean Sea that few Chinese people know about.
Cyprus introduced a new immigration policy at the end of 2011, allowing a person who buys a house in Cyprus of a certain value to apply immediately for a residence permit.
"The difference is that most popular Western property investment countries target rich Chinese buyers, whereas getting into the Cypriot property market is easier. Our main target is the fast-growing middle class in China," said Giovannis Kouzalis, an immigration lawyer from Cypriot law firm G. Kouzalis LLC.
Kouzalis said the education system in Cyprus is among the best in Europe and that graduates from Cyprus' high schools are not required to take further examinations to enroll in any university in Europe.
Cyprus' success in reaching out to China has thus far paid dividends. In 2011, only 350 visas were issued by the Cypriot embassy in Beijing. By November of this year, the number of visa applications had already surpassed 1,500.
More stories:
Housing policies 'set to continue'
Luxury housing sales rise in Beijing
Wenzhou's house prices drop 18% in Q3
Foreign investors eye senior housing and care market