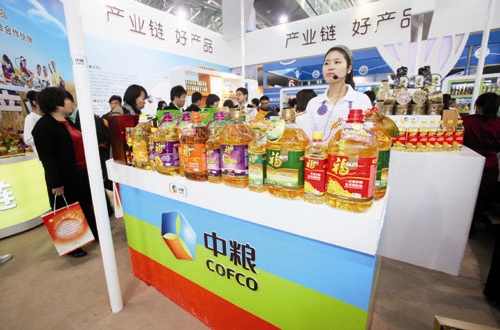 China National Cereals, Oils and Foodstuffs Corp's booth at a trade show in Tianjin earlier this month. The company is looking at boosting grain supplies from North and South America, Russia and Australia. [Photo/China Daily] 
Food processing giant speeding up plans to satisfy domestic demand
China National Cereals, Oils and Foodstuffs Corp, or COFCO, plans to accelerate its expansion program abroad to meet growing demand at home.
Ning Gaoning, chairman of the State-owned food processing giant, said the company is looking to expand its network of investments in the "world's major production areas" for agricultural goods, namely South and North America, Australia and Russia.
"We plan to net the best agricultural goods worldwide to guarantee domestic market supply," said Ning on the sidelines of the 18th National Congress of the Communist Party of China.
He said the company - which last year claimed it had around $10 billion available to fund overseas mergers and acquisitions in the next four years - will be looking particularly at grain supply opportunities in Brazil and Argentine, wine-related investments in Chile and the United States, and wheat, corn and rapeseed supplies in Canada, Russia and Australia.
COFCO is already one of the sector's most active overseas investors.
One of its highest-profile moves came in July last year, when it increased its share holding in the Australian sugar producer Tully Sugar from 61.25 percent to 99 percent, in an investment worth 938 million yuan ($148 million).
"China will import more and more agricultural products, and exports of agricultural goods will become less and less," said Ning, adding he expects more Chinese companies to look overseas for agricultural resources.
While China has achieved solid summer grain harvests for nine consecutive years, the country's imports of grains have also hit a historic high.
During the first half of this year, its grain imports surged by 41.2 percent from a year earlier to 40.85 million metric tons, driven by imports of corn and wheat. From January to July, China's corn imports alone jumped by more than 15 times year-on-year, official figures show.
In his annual government work report in March, Premier Wen Jiabao encouraged Chinese companies to expand abroad through mergers and acquisitions, and since the 2008 global financial crisis, there has been a steady flow of overseas investments by companies within the food sector.
One of the largest was completed by Shanghai's Bright Food (Group) Co, which last year bought a 75 percent stake in the Australian food business Manassen Foods in a deal valued at A$530 million ($556 million), including debt.
However, not all deals have been completed so smoothly.
Earlier this year, despite the New Zealand government's approval, a $210 million planned purchase of the 8,000 hectare Crafar farm estate on the country's North Island by Shanghai Pengxin Group Co Ltd was put on hold after the country's High Court ordered the government to re-evaluate the decision, questioning the economic benefits of the deal to New Zealand.
Ning said his company has come across "investment restrictions set by other countries, each time COFCO has made a deal".
He added: "It's not easy, but it is understandable that they worry about the purpose of any deal ... We always make sure our investments bring benefits to the local economy, community and the local workforce."
Domestically, COFCO is also investing heavily in improving its operations.
"We are planning to develop more industrial complexes," he added.
In 2009, COFCO launched a 2.2 billion yuan plan to ensure better safety standards and deliver improved production and supply throughout its network.
Its "whole-chain model" involved improvements across all seven of its divisions, including agricultural goods, breeding, processing, transportation and sales.
Contact the writers at dingqingfen@chinadaily.com.cn and baochang@chinadaily.com.cn