Higher consumption comes as refineries finish maintenance, stockpile for winter
China's demand for oil is likely to show its largest increase in two years in the fourth quarter as the country's economic growth begins to pick up, according to industry experts.
"Most domestic refineries completed maintenance work in the first three quarters and started to stockpile for the winter," said Liao Na, information and operating director of ICIS C1 Energy, a Shanghai-based energy consultancy. "As a result, the demand for oil has been increasing in the fourth quarter."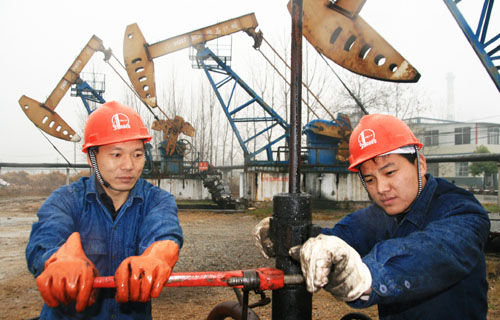 Workers from the Jinglou oilfield in Henan province tighten an oil brake on March 22, 2012. In the fourth quarter, China is expected to use 9.64 million barrels of oil a day as the country's economic growth picks up. [Photo/China Daily]
The international price of oil meanwhile remains relatively low - around $80 a barrel - making now an opportune time for China to import more of the resource, she said.
According to official figures, the price of light sweet crude oil, a benchmark used for oil prices, was about $85 a barrel on Thursday.
In the fourth quarter, China is expected to use 9.64 million barrels of oil a day, which would result in the largest quarterly increase since the same period of 2010, according to the International Energy Agency and Sanford C Bernstein & Co.
The price of crude oil and of China's crude imports will both rise in the long run, Liao said.
In fact, China's "apparent oil consumption", defined as its domestic output plus its net imports, began to increase late in the third quarter following a decline for several months.
In September, the country's consumption of crude oil went up by 9.1 percent year-on-year, showing its strongest increase since February 2011, according to statistics from Platts, an energy information provider.
For the entire month, 40.12 million metric tons of oil were used in the country, an amount equal to about 9.8 million barrels a day.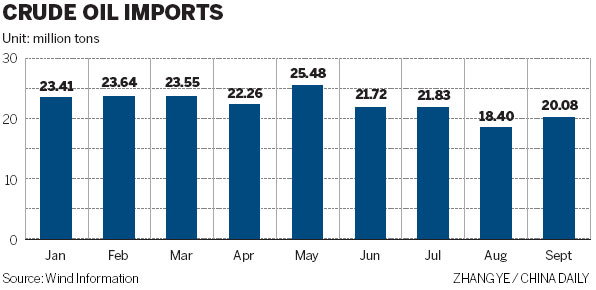 China's oil use came to 8.95 million barrels a day in August, 9.2 million in July and 9 million in June, according to Platts.
"Refineries' output and net imports indicated a steady rise in oil demand in the third quarter in China," said Song Yenling, senior analyst at Platts.
China imported 20 million tons of crude in September, up 9.13 percent from August.
That was the first rebound seen in China's crude imports and processing in four months, a time in which industrial activity increased, according to government data.
China's oil imports:
China 2013 non-State crude import quota unchanged
Crude imports from Iran decline 28% in July
Rise in crude oil imports slides to lowest this year
Oil imports from Iran surpass 2011 average