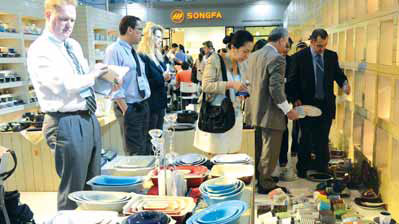 Buyers carefully peruse porcelain crafts available at the fair. [Photo/China Daily] 
The 112th China Import and Export Fair, commonly known as the Canton Fair, will be held from Oct 15 to Nov 4 at the China Import and Export Fair Complex in Guangzhou, capital of South China's Guangdong province.
Renowned as China's top trade fair, the Canton Fair has been held twice yearly in Guangzhou every spring and autumn since 1957. The event is co-hosted by China's Ministry of Commerce and the Guangdong provincial government, and organized by the China Foreign Trade Center.
The scale of this year's fair has been expanded to a total of 59,400 standard booths including 58,500 export booths, which are distributed among 50 pavilions according to 15 product types, and the gross import pavilions cover an area of 20,000 square meters.
Eight sections are designed to attract investment from 23 countries and regions, including traditional markets in the United States and Western Europe as well as emerging markets in Africa, Eastern Europe and South Asia. More than 1.3 million buyers have been invited from these regions.
The 112th Canton Fair focuses on attracting products to the exhibition in the fields of environmental protection, high technology as well as products with distinctive local characteristics. Specialties of countries such as Germany, France, Spain and Italy will also be a highlight. Delegations from 13 countries and regions have registered, including three new exhibitors from Japan, Brazil and Thailand.
More than just an exhibition for products, the Canton Fair serves as a platform for communication among importers and exporters. To this end, the fair will host a design exhibition, five theme forums and the International Market Forum, the theme of which is grasping opportunities in Brazil.
To date, 42 design institutions from 10 countries, such as Italy, the Netherlands and the United States, have applied to participate in the design exhibition.
To cultivate more renowned Chinese-owned brands, the 112th Canton Fair is emphasizing brand strategy, which is exemplified by more than 11,800 brand booths, accounting for 20 percent of the total amount of standard displays.
Based on local industrial structures and products for export, the layout of exhibition areas has been upgraded to meet the requirements of the market.
To ensure the quality of this fair, exhibition zones are specialized so that products from the same category of an enterprise can only apply for one exhibition zone and the ranges of the five exhibition zones are classified into categories, including small machinery, engineering machinery, and construction and decoration materials.
zhangshiyi@chinadaily.com.cn