The 3rd Jilin University – Lambton College Auto Show kicked off in Changchun, Northeast China's Jilin province on Sept 16.
The event, known as "China's largest outdoor campus auto show on record", is planned and organized by students of Jinlin University.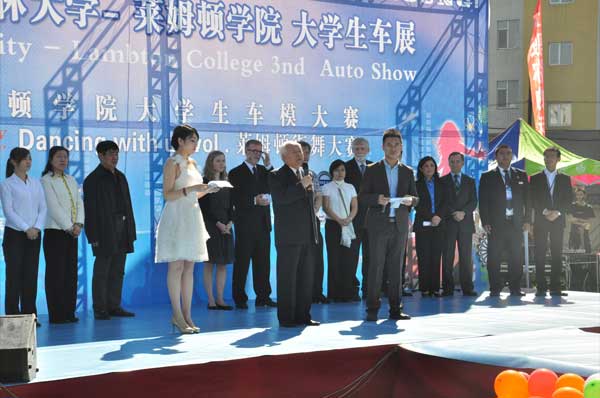 The 3rd Jilin University – Lambton College Auto Show opens in in Changchun, Jinlin province, Sept 16, 2012. [Photo/Provided to China Daily]
A total of nine local auto dealerships in Changchun bring 36 vehicle models to the show, including passenger cars, SUVs and commercial vehicles.
The dealers hope to attract teachers and students on the campus with special offers and discounts.
A showgirl pageant and street dancing competition will add flavor to the event.
The Jilin University - Lambton College auto show was initiated in 2009.
Though only 41 cars of 16 models were displayed at the first show, the exhibition still contained three sections of new models, used cars, and modified cars, and exhibitors from 19 brands.
While other Chinese universities also organize similar events, their size is no match to the one held in Changchun, according to its organizers.
Organizers of the event obtained their organizing experience while volunteering in the annual Changchun International Auto Expo, said Zhou Jianxing, member of the university's Automobile Association.
Organizing the auto show on campus sharpens the students' insight in the auto industry and helps them accumulate more experience in organizing large-scale exhibitions, according to Zhou.
Zhou said they hope to work in the auto industry after graduation, contribute to future campus auto shows in their alma mater of Jilin University, and eventually turn it into a national campus auto show.
Changchun is the largest automobile manufacturing base in China. The auto industry accounts for about 70 percent of the industrial volume of the city, according to a previous China Daily report.
As cradle of China's auto industry, and home to FAW, China's biggest vehicle producer, Changchun is also nicknamed "China's Detroit".