The Chinese Liquor and Economic Development Forum was held by the China Alcoholic Drinks Association on August 16.
In attendance were over 50 news media and 60 seasoned, famous liquor enterprises, including the Kweichow Moutai Company, Luzhou Laojiao Company, Yanghe Company and Gujing Group. The participating enterprises analyzed the problems in the Chinese liquor industry and explored new models for future development.
In recent years, the liquor industry has been under great pressure as it faces public doubts regarding price inflation and state restrictions on liquor advertisements. Despite the continuous development of the industry, the reputation of Chinese liquor has suffered greatly.
Yuan Renguo, chairman of Kweichow Moutai Company, said healthy drinking and rational consumption were neglected in the past. Compared with other kinds of liquor in the world, Chinese liquor has not yet played its due role. Chinese liquor should inherit and develop traditional culture and absorb and learn from other countries' achievements in order to make Chinese liquor popular worldwide.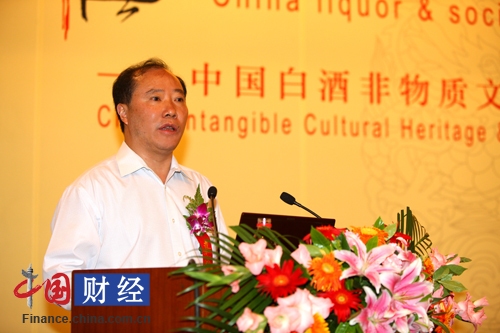 Yu Lin, chairman of Gujing Group, noted that huge profits, drunk driving and corruption often associated with liquor has led to the depreciation of the liquor industry. He called upon the construction of Chinese liquor culture to advocate moderate drinking.
It is of great significance to focus on the disputable issue of liquor and health. The concept of healthy drinking and rational consumption should be strongly advocated. Yu Lin suggested popularizing healthy drinking habits. He also said that with the help of modern science and technology, more healthy liquor should be developed based on the taste of traditional Chinese liquor.
Moutai Company supports drinking with small glasses to promote the idea of drinking in a healthy and humane way. Gujing Group developed "mild" liquor 10 years ago in consideration of consumer health. Langjiu Group vigorously promotes the "Chinese Dream" that features an enterprising spirit, responsibility and a combination of individual value and national rejuvenation. Zhang Yubo, president of Yanghe Group, said that the Chinese liquor industry must move forward along with the culture of Chinese liquor, emphasizing harmonious coexistence of the material and the spiritual.
Chinese liquor makes great contributions to the economy, national culture and national unity. The industry should be judged objectively through its social responsibility and historic mission.
Yuan Renguo said the Chinese liquor industry accounts for large contributions in taxes, solves employment problems and entertains consumers. The industry also pays great attention to social progress, public welfare and charity work. Chinese liquor constantly meets the public's material and cultural needs. As a vibrant traditional industry, it should be supported by the whole nation.
The Chinese liquor industry also faces threats from a great number of Western liquor products, occupying large portions of Chinese markets. Embedded with Chinese culture, Chinese liquor is no longer simply a kind of alcoholic drink. It represents a person's culture, hobbies, tastes, hopes and opinions. Chinese liquor should spread around the world, showcasing the globalization of Chinese culture.