China's global competitiveness ranking declined for the first time in 2012 after seven years of steady progress.
Experts said the news is a warning to Beijing that it needs to effectively increase education and innovation investment and speed up market-oriented reform.
In the Global Competitiveness Report 2012-13, released on Wednesday, the Switzerland-based World Economic Forum said China's competitiveness ranking dropped from the world's 26th in 2011 to 29th this year, its first decline since 2005.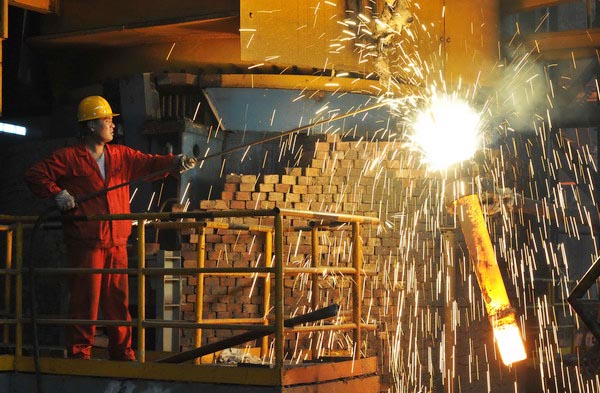 A worker cleans continuous-casting equipment at a Dongbei Special Steel Group Co Ltd plant in Dalian,
Liaoning
province. [Photo/China Daily] 
For the fourth straight year, Switzerland was ranked No 1, and this year, it is followed by Singapore. Hong Kong and Japan are also on the top-10 list.
The report's competitiveness ranking is based on the Global Competitiveness Index (GCI), calculated by drawing together public and private data in 12 key categories, including institutions, infrastructure, macroeconomic environment and innovation. The factors make up a comprehensive picture of an economy's competitiveness.
Chi Fulin, president of the China Institute for Reform and Development, said the lower ranking for China this year is largely the result of its economic slowdown since late 2011.
"China's higher rank in previous years was mainly due to its rapid growth, unlike the Scandinavian countries, which gained their competitiveness via comprehensive national strength," Chi said.
But during an interview with Xinhua, Margareta Drzeniek Hanouz, senior economist of the WEF and co-author of the report, said the change of China's ranking is so small that it is hard to interpret right now.
"It's only very tiny decline. China is still doing very well," she said.
The annual report also said China still leads the emerging economies.
Among the 144 economies and regions listed, Brazil was 48th; South Africa, 52nd; India, 59th; and Russia, 67th.
She said the gap between China and the other BRICS countries is going to remain for the time being, while Russia's accession to the World Trade Organization might bring some changes to its ranking in the future.
However, Chi Fulin said that China, facing declining exports and rising costs, is also seeking to transform from the world's largest manufacturer to a leading innovator globally, hoping to translate its high economic growth into overall national strength.
"If the process goes well, China will reclaim its high position on the ranking table," Chi told China Daily.
To that end, Chi said, China needs to shift gears in its growth pattern from one driven by investment and export to a consumption-led one.
The success of this change will depend on reforming social income distribution to release residents' purchasing power, expanding the modern service sector, Chi said.