How the silver lining to latest computing technology could turn to gold in China
Cloud computing is spreading across the world, overshadowing other information technologies. But in China it is destined to take a different form to that enveloping Europe and the United States.
The computing "cloud" is an abstract term representing an amorphous mass of IT applications and services that can be combined, integrated and tailored in numerous ways over the Internet and local networks to increase an organization's efficiency.
It is increasingly being applied in commercial and government systems, so far mainly in telecoms, health, education, oil and finance.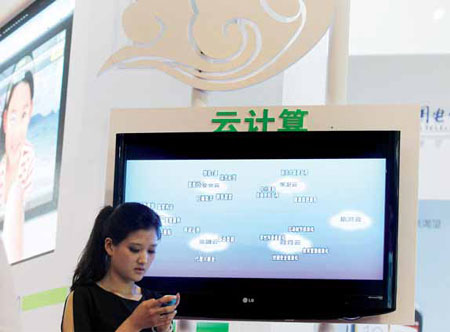 A display promoting cloud-computing services in financial, medical and other industries at an expo. [Photo/Provided to China Daily]
Globally, revenue from the cloud computing market is expected to grow this year by 92.3 percent year-on-year to $60.7 billion, a report by Beijing IT consultancy CCID Consulting said. Another research body said the market will be worth $241 billion by 2020.
In China alone, it is poised to grow at a compound annual rate of 91.5 percent, according to DatacenterDynamics, a business-to-business information provider, reaching an estimated value of $160 billion in 2015.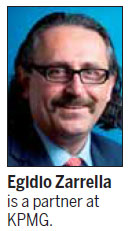 However, Chinese laws and regulations controlling the Internet and data processing will limit the extent of cloud computing services. That said, the government is to invest up to $154 billion by 2015 to support the development of 25 cloud computing centers, a research report by accounting company KPMG said.
The reason for the investment, the report noted, was the country's relatively immature IT infrastructure, which supports 500 million Internet users and 900 million mobile-device users. Also, many organizations have a low IT skill base and are lagging behind in adopting new technologies.
Not surprisingly, this massive investment has attracted major players such as IBM Corp, Microsoft Corp, Intel Corp and Cisco Systems Inc, as well as State-owned enterprises and private service companies.
Egidio Zarrella, a KPMG partner specializing in business and IT strategy, said the cloud computing market in China is led by the national and regional governments.
"The limitations they impose are not only a Chinese thing - all countries and regions have specific restrictions and protections regarding security and privacy," he said. "The market has so much potential that most of those multinational companies cannot afford to ignore it. Besides, I think the Chinese government will make these regulations clearer in the future.
"Many countries are still developing standards and regulations for this market. Multinational companies must understand the rules that China wants followed."
Indeed, the multinationals are now looking for partners or are already working with local governments to localize their data centers, products and services.
IBM is contacting telecom carriers and other enterprises in China that have the relevant government licenses, and hopes to create a public cloud service by the end of the year.
Zhou Zhengang, senior research manager with IDC China, an IT research company, said the major cloud computing market for multinational companies in China is in infrastructure rather than services.
"The service market means providing cloud computing services for enterprises and consumers, which is still limited to local players given the restrictive laws and regulations governing cross-border data flows," Zhou said.
"According to current regulations, foreign companies cannot operate independently in China. They need a Value-Added Service Provider license from the Ministry of Industry and Information Technology. Besides, they cannot have their own data centers here, and that slows down their cross-border connections."
However, Zhou added, the infrastructure market, which requires servers and equipment from cloud computing operators, will have more room for growth, given foreign companies' strength in data storage technology.
As early as August last year, IBM launched its cloud business unit in China.
"We can provide our clients with servers, equipment and service support," said the unit's director, Wang Shenghang. "However, our strategy is more than that.
"Our slogan is 'Rethink IT, reinvent the business model'. We are not only seeking to optimize the IT process of our clients but also to offer a combination of IT solution and business model, which will help clients transfer and redefine their business structure and upgrade their business process."
With cloud technology, Wang said, companies can reduce their IT infrastructure costs, simplify their IT process and improve efficiency.
For example, IBM is working on a healthcare project to provide a set of cloud computing solutions, including a platform on which the elderly, children, community clinics, hospitals, and their doctors can store, share and synchronize patient profiles.
Wang said it is a typical example of combining industrial knowledge together with cloud computing to provide a customized service for the public.
Cloud computing has become a core part of IBM's strategy for the next three years, with 80 percent of Fortune 500 companies using its service, Wang said. The company estimates revenue of $7 billion from this segment by 2015.
"Many local companies still have a low utility rate for their IT resources, lower than 25 percent," he said. "They prefer to rent servers. The change from renting to seeking computing services provides a great market."