China Southern Airlines Co Ltd said on Monday that its net profit dropped 83.70 percent to 449 million yuan ($70.66 million) in the first half compared with the same period last year due largely to rising fuel costs and shrinking foreign exchange gains.
The Guangzhou-based carrier - which is the country's largest airline by passenger numbers - said its first-half operating revenue was 48.03 billion yuan, up 13.2 percent year-on-year.
"The ever-changing international economic environment, the deteriorating debt crisis in European countries, slowing growth from aviation markets both in developed and emerging economies, intensifying competition, soaring fuel prices and the narrowed renminbi-dollar movements have negatively impacted the company's performance," said the carrier.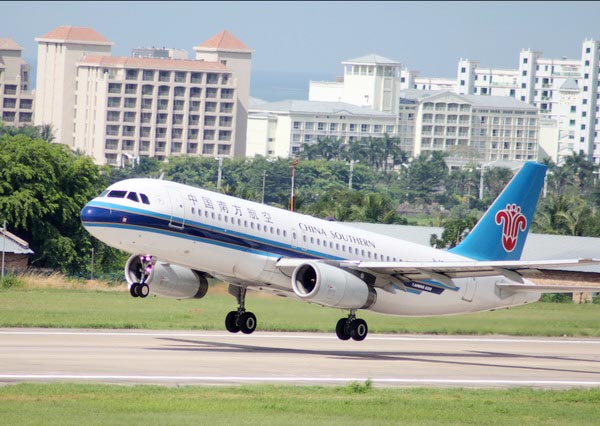 A China Southern Airlines Co Ltd aircraft takes off from Sanya Phoenix International Airport in
Hainan
province. [Photo/China Daily] 
In the first half, the airline's fuel costs increased 26.6 percent year-on-year to 18.53 billion yuan due to high crude prices, it said.
In addition, it booked a 300 million yuan loss as the yuan weakened against the US dollar in the first six months of the year, while during the same period last year, it earned 1.21 billion yuan in exchange gains.
Despite the weaker-than-expected earnings, the carrier achieved rapid growth in both transportation turnover volume, which was 7.65 billion ton-kilometers, and passenger transport volume, which was at 41.21 million, in the first half, up 11.8 percent and 7.2 percent year-on-year, respectively.
China Southern also invested heavily in expanding its available seat kilometers, known as ASK, a measure of an airline's passenger carrying capacity, which partly dragged down its profit, said Li Lei, an analyst at Minzu Securities.
"The airline's domestic routes' ASK rose 9 percent year-on-year during the first half, international routes' ASK increased 27 percent and regional routes' ASK surged 33 percent. Meanwhile, its investment in its international business increased to 20 percent," said Dong Ding, an analyst at Guangfa Securities.
Li said that although rivals China Eastern Airlines Co Ltd and Air China Ltd have not yet unveiled their half-year results, which may also drop more than 50 percent according to earlier forecasts, China Southern seems to be the least profitable carrier among China's three major airlines.
As the aviation market is entering its traditional peak season, which runs from July to October, analysts showed prudent optimism toward the carrier's outlook for the second half.
A UBS Investment Research report estimated that China Southern's core business profit will surge between 15 and 20 percent in July, and that in August, the growth may hit 15 percent.
However, Han Yichao, an analyst at Changjiang Securities, said oil prices are not likely to weaken in the second half in light of the recent tensions in the Middle East and the quantitative easing measures being planned or worked out by a number of central banks.
"Crude prices are back on the upward track, with Brent crude futures for October delivery hitting a three-month high of $112.8 a barrel. As Chinese carriers are not allowed to buy fuel-hedging contracts to offset the crude price hikes due to their tremendous losses in 2008, they have to operate their fleets on higher costs," Han said.
China Southern shares edged up 0.27 percent to close at 3.69 yuan on Tuesday.
Meanwhile, China Eastern will report its first-half results on Aug 30, Wang Jian, board secretary of the carrier, told the China Daily.
Li at Minzu Securities said that China Eastern may post the best results among China's three major carriers.
wang_ying@chinadaily.com.cn