The United States wireless network provider Meru Networks Inc is eyeing the Chinese market with the company expecting its revenues in the Asia-Pacific region to double in the next two to three years.
The country's thriving hospitality industry and higher education institutes will be the biggest customers for Meru, which entered China two years ago.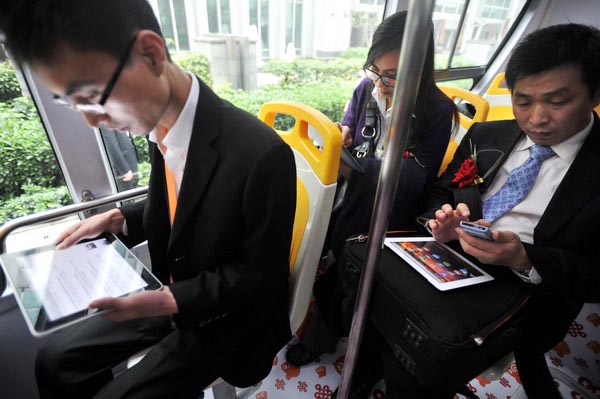 Passengers using iPads and cellphones on a public bus in Guangzhou. The public bus company in the capital city of South China's Guangdong province provides a Wi-Fi service on its vehicles. China has been one of the fastest developing markets for wireless networking systems because of increasing demand despite slowing GDP growth, said Bami Bastani, president and chief executive officer of Meru Networks Inc. [Photo/China Daily]
China has been one of the fastest developing markets for Meru because of increasing demand despite slowing gross domestic product growth, according to Bami Bastani, president and chief executive officer of Meru. "The Asia-Pacific region is the fastest growth region for us and China business is the fastest-growing part in the region," he said, without giving precise figures.
The Sunnyvale-based company, founded in 2002, said it is expecting the Asia-Pacific region to generate about 16 percent of its revenue by 2015. The market now contributes about 8 percent of the company's total revenue.
"Globally, Wi-Fi technology is one of the few industries that could maintain a 20 percent increase over the years when the world economy is encountering a downturn," said Bastani,
The global market scale for Wi-Fi networking providers is about $3 billion this year and it could reach $5 billion by 2015, Bastani estimated, adding that Meru is hoping the next-generation of Wi-Fi products will boost sales in China.
China's education industry could be a safe place to find profits. "It is interesting to see that up to 95 percent of the Wi-Fi in universities was installed by telecommunication carriers. We will be very pleased to work with local carriers," said Bastani.
Meru has helped several universities, including Nanjing University, Beijing Normal University and China University of Petroleum, to set up Wi-Fi access points. The company declined to disclose details of the deals.
"It will only cost $10,000 to set up a Wi-Fi network in a small-sized school but $2 million for large universities," said Bastani, adding that the average cost to set up a mid-scale Wi-Fi network is between $100,000 to $500,000.
Meanwhile, the rapid-growing hospitality industry in China is likely to become another gold mine for Wi-Fi providers.
The number of five-star hotels in the country hit 651 in January and there are another 500-plus luxury hotels waiting to open, data from the China Tourist Hotel Association showed. The number of top-tier hotels enjoyed a year-on-year increase of 15 percent over the past three years compared with the average increase rate of 6 percent in China's hospitality industry. The association estimated that the nation's five-star hotels could exceed 1,000 by 2015.
Customers are expected to have higher expectations from Wi-Fi, said Satoshi Shiba, manager of greater China and Japan. "Because Wi-Fi nowadays is not simply a hotspot, when our customers want to provide paid Wi-Fi access to its customers, they are definitely looking for a system that could offer the most reliable products with the lowest price," he said.
The Institute of Electrical and Electronics Engineers, the world's largest professional association for technology innovation, is looking at 802.11ac, the next-generation Wi-Fi connection standard. Industry analysts believe the new standard will enable multi-station connection speeds of at least 1 gigabyte a second. Current standards enable a throughput of roughly 300 bits per second.
However, China has a habit of adopting its own communication standards.
Chinese telecommunications carriers have been able to develop their own third-generation telecom standards. Overseas communication network providers seem to have trouble adapting to the different industry standards. As early as 2008, some imported mobile phones, including world-famous brands such as Nokia, Dopod and Samsung, removed their Wi-Fi features because of different standards.
China Telecom Corp, one of the nation's three telecom carriers, pledged to arrange 1 million Wi-Fi hotspots across the country by the end of this year to meet the soaring demand for mobile Internet. The ambitious plan includes Wi-Fi coverage to public areas with high population density, such as office buildings, airports and coffee bars.
Meru said it is prepared to provide customized products to Chinese clients because the market is too big to lose.
The company is trying to team up with China's telecom carriers to better develop the market. The 3G and even 4G network is facing increasing challenges from demand for huge amounts of data such as online video. Wi-Fi could help to solve the resource limitation by carrying more data, said Bastani.
About 90 percent of data transmitted will be video by 2015, he said.
gaoyuan@chinadaily.com.cn