Kai Arief Selomulya, head of research and development at the National Board of Indonesian Pharmaceutical Association in Jakarta, has never seen Chinese investors as interested in Indonesia and neighboring countries as they are now.
Less than two weeks earlier, two Chinese companies approached him and his association to discuss investment opportunities in Indonesia. It was both out of interest in the domestic market and as a gateway to the nine other members of the Association of Southeast Asian Nations.
"We had an exhibition with Chinese and Indian pharmaceutical companies," said Kai, whose job gives him front-row access to the development of the industry locally and regionally.
"Many of them are interested (in investing). There are two (Chinese) companies that are very serious about coming in. When we talk about ASEAN, Indonesia is the country they want to be in." .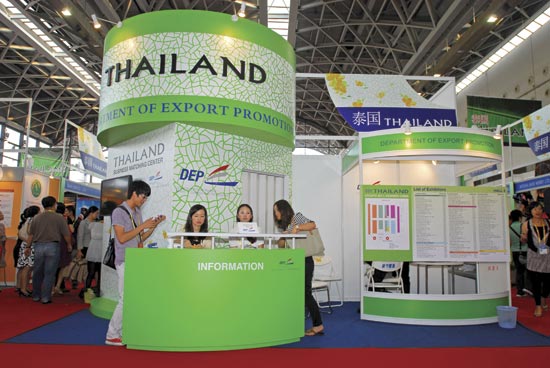 Thailand's stand at the Eighth China-ASEAN Expo held in Nanning, capital of Guangxi Zhuang autonomous region, in 2011. By the end of last year, China had invested a cumulative $13.5 billion in ASEAN, according to David Wong, deputy chief executive at the Bank of China Hong Kong. [Photo/China Daily] 
After two decades of focusing on trade, Chinese companies are now increasingly interested in investing in ASEAN. The turning point was in 2010, when the China-ASEAN Free Trade Agreement took effect.
The pact created the third-largest free trade area in the world after the European Union and the North America Free Trade Area - Canada, the United States and Mexico. Its emergence prompted China's Vice-Minister of Commerce Gao Hucheng to note that "investment between both sides has entered a stage of more rapid expansion".
ASEAN comprises Brunei, Cambodia, Indonesia, Laos, Malaysia, Myanmar, the Philippines, Singapore, Thailand and Vietnam - 10 countries with 584 million people and a combined GDP of about $6 trillion in 2010, about the same as China's but with half the population.
"Relative to trade, investment has been relatively low," said Frederick Gibson, an associate economist at Moody's Analytics who focuses on the region. "But the agreement in 2010 paved the way (for growth)."
A number of initiatives are facilitating mutual investment in China and ASEAN countries.
The China Council for the Promotion of International Trade has an information platform on investment in ASEAN countries, including awards. The ninth edition of the China-ASEAN Expo, an annual event, will be held in Nanning, capital of South China's Guangxi Zhuang autonomous region, in September, highlighting the growing investment links between the two.
By the end of 2010, more than 1,000 Chinese companies had invested about $2.9 billion in Indonesia, a jump of 31.7 percent from 2009. Chinese companies are also looking for acquisitions and joint ventures in sectors such as oil, gas and coal.
Chinese telecommunications giant Huawei Technologies Co Ltd first started setting up subsidiaries and branches in ASEAN countries in 1999. By 2005, it was controlling about 20 percent of the mobile network market. In 2011, the company announced plans to lay underwater cables between Malaysia and Indonesia to provide more communication bandwidth.
It has been particularly successful in Indonesia, though, according to Huawei Indonesia Deputy Director Dani K. Ristandi, it wasn't easy entering the Indonesian market. Despite initial difficulties, the company notched up a sales revenue of $1 billion in 2010.
In Malaysia, Chinese companies are investing in high value-added petrochemical manufacturing, underlining the push toward more qualitative investment in the region, and not just resources extraction or cheap manufacturing. Eight Chinese companies are listed on the stock exchange in Kuala Lumpur, the largest of them being China Stationery, which went public last November.