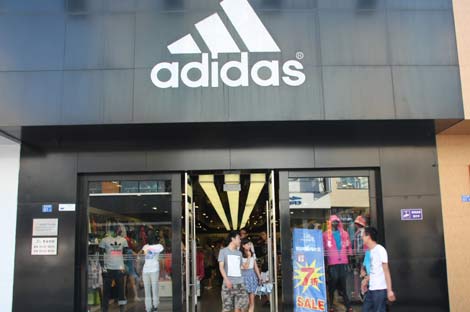 An adidas store in Qingdao, Shandong province. Adidas Group China plans to open new stores in 300 to 350 small cities where it currently does not have outlets but where local competitors are present. [Photo / China Daily] 
Adidas Group China, a unit of German sports clothing manufacturer Adidas AG, is continuing its aggressive push into Chinese lower-tier cities with the planned opening of up to 600 stores.
"We plan to open 500 to 600 stores in lower-tier cities by the end of the year," said Colin Currie, managing director of adidas Group China.
In an interview with China Daily, Currie said the company plans to open new stores in at least 300 to 350 cities where it does not have outlets now but where local competitors are present.
He said the store openings this year will focus on the western and northwestern parts of China.
The move follows the company's first-quarter results, which showed revenues up 14 percent at 3.8 billion euros ($4.67 billion) and net profit up 38 percent at 289 million euros. The figures were boosted partly by strong sales in China, with a 26-percent increase, compared with a 7-percent drop in Western Europe.
Currie attributed the rise to the company's Route 2015 strategy, which calls for five years of double-digit annual sales growth in China.
"Adidas' success may come from the decreasing market share of Li Ning, its major Chinese rival," said Guo Hongchi, chief executive of xijie.com, a leading e-commerce portal for sports goods.
"Adidas' long-term strategy and good partnership with distributors are its strength," Guo added.
Adidas forecasts 12 percent to 17 percent growth in global full-year profits, compared with a previous forecast of 10 percent to 15 percent. It also expects 2012 global sales to increase nearly 10 percent, instead of the previously forecast of 5 to 9 percent.
It has opened more than 6,000 stores since it entered the Chinese mainland market in 1997.
"Sports have become more and more popular here. We are optimistic for medium- and long-term development in China," said Currie.
In April, Nike - the world's biggest sports goods company - reported a 21-percent increase in Chinese sales for its fiscal third quarter, which ended in February.
According to Research and Markets, a US market researcher, with rising per capita disposable incomes, Chinese people's demand for sportswear products, including sports shoes and garments, soared in recent years. In 2011, the sportswear market in China was worth 124.7 billion yuan ($19.57 billion).
In China, brands such as Nike, adidas, Kappa, Puma and Fila occupy the high-end space, while the medium-level space is dominated by domestic companies like Li Ning and Anta.
In the below 200-yuan market, the leading players are Xtep, Peak, 361and ERKE, according to Research and Markets.
liwoke@chinadaily.com.cn