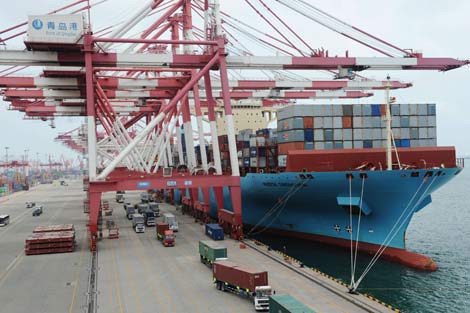 A container ship at the port of Lianyungang, Jiangsu province. Shipping companies, including China Shipping Haisheng Co Ltd and COSCO Shipping Co Ltd, gave investors an early warning of a first-half slump. [Photo / China Daily] 


Industry may not recover in second half on weak demand, experts say
Shanghai-listed COSCO Shipping Co Ltd, the vessel service provision arm of China Ocean Shipping (Group) Co, said on Thursday that profit attributable to shareholders for the first half will drop 99.5 percent from a year earlier to about 700,000 yuan ($109,000).
Shanghai-listed COSCOL did not provide a reason for the drop.
COSCOL is not the only shipping company in China releasing warnings about a profit slump in the first half.
Shanghai-listed China Shipping Haisheng Co Ltd, a bulk carrier operator, also gave investors an early warning of a first-half loss, without disclosing specific figures. The company reported 26 million yuan in net profit in the first half of 2011.
CSHCL said price drops caused by shipping capacity oversupply are behind the losses.
China's shipping industry is being hit with increasing costs and price drops since last year. Most companies reported huge losses in 2011.
COSCO, China's top shipping conglomerate, posted losses of about 10 billion yuan last year, the biggest losses in the industry.
Experts said the shipping business, especially dry bulk carriers, may not recover in the second half as demand in domestic and foreign markets is expected to remain weak.
The Baltic Dry Index - a measure of shipping rates for bulk goods such as coal, iron ore and grain - declined 37 percent from 1,624 points on Jan 3 to 1,004 points at the end of June. The index recorded its lowest reading, 647 points, on Feb 3.
"Due to the slowdown in China's economic growth and overcapacity, we believe 2012 will be a difficult year for dry bulk ship owners," said UBS Securities analyst Jean Rao in a report.
UBS cut average readings on the index forecast for 2012 from 1,400 points to 1,250 points.
"In the domestic market, the development of the shipping industry is closely related to the development of the steel manufacturing, infrastructure and construction sectors and the property development sector. At this point, those industries may not recover quickly," said Zhou Dequan, deputy director of the Shanghai International Shipping Institute.
However, not every sector in the shipping industry will suffer in the second half year.
UBS said peak-season freight rates will support a profits rebound in the third quarter for container shipping service providers.
"We think the market has recently been overly concerned about the fall in container shipping freight rates and believe that rates can be maintained above the breakeven point during this year's peak season," Rao said in the report.
However, Zhou has a pessimistic view about the container shipping sector.
"Many companies adjusted containers freight rates to maintain profitability. However, as demand is not getting better, it is hard to say whether the rates can be maintained in the future," said Zhou.
tangzhihao@chinadaily.com.cn