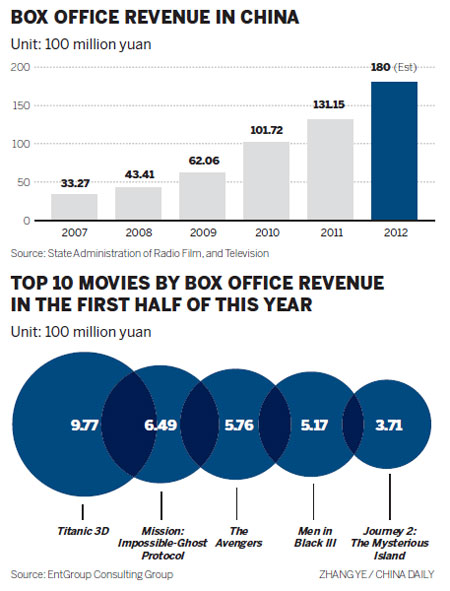 After being submerged in a flood of Hollywood blockbusters in the first half of 2012, Chinese films might be able to catch their breath this month.
Of the 19 films to be released in the country this month, only three are imports, according to the China Film Group, the State-run movie conglomerate that oversees the distribution of foreign films in China.
Two of the imported films are Hollywood productions - Ice Age: Continental Drift and The Lorax - and one is from Japan. Both of the US films are animated features.
In the first half of the year, 7.74 billion yuan ($1.2 billion) was generated in box office revenue, up 35 percent year-on-year. Even so, domestic films were hit hard by imported productions. More than 100 domestic films generated less than 3 billion yuan from January to June, while 38 imported ones brought in nearly 5 billion yuan.
Foreign films were also the source of 65 percent of all ticket sales during that period, according to m1905.com, CCTV 6's movie website.
Of the 10 films that reeled in the most revenue during the six months, only one was a domestic film. As of July 1, the three highest-grossing films were Titanic 3D, which brought in 977 million yuan; Mission: Impossible-Ghost Protocol, which brought in 649 million yuan; and The Avengers, which brought in 576 million yuan, according to EntGroup Consulting Group, a Beijing-based domestic entertainment industry consultancy.
The only domestic film among the top 10, Painted Skin: The Resurrection, managed to gross 400 million yuan in the first 7 days following its debut on June 28, setting a record for moneymaking among Chinese movies and putting it in the same league as Transformers: Dark of the Moon and Titanic 3D. Analysts estimate Painted Skin will eventually bring in 600 million yuan in box office revenue.
"More fierce market competition, a crowded schedule of film releases and an increased quota for imported films have led to the poor performance of domestic films in the first half," said Gao Jun, general manager of Beijing Shengshi Huarui Film Investment & Management Co, who is also the former deputy general manager of the theater operator New Film Association.
Summer has always been a lucrative season for film investors and producers.
Films in China generated 13.12 billion yuan in 2011. Of that, about 32 percent came in during the summer, according to statistics from EntGroup Consulting Group.
Some film investors blamed movie theaters for Chinese films' poor performance at the box office, saying they give more screenings to imported movies than domestic ones.
Chinese films are not likely in the short run to reach a point where they are of equal quality to imported films. Domestic movie producers and companies should be thinking about how they can develop under such circumstances, Gao said.
Yu Chao, deputy general manager of Capital Cinema in Beijing, said it is the quality of a movie, rather than whether it's an imported or domestic production, that determines its box office performance.
Hollywood studios, in response to the economic downturn in their home market, are attaching more importance to the Chinese market.
The value of ticket sales in the United States and Canada dropped by 4 percent year-on-year to $10.2 billion in 2011, according to the Motion Picture Association of America.
The Hollywood blockbuster Avatar raked in 1.3 billion yuan in China, about 7.3 percent of the movie's global revenue.
Although the science-fiction film John Carter may have resulted in a significant loss for Walt Disney Co this year, it grossed 263 million yuan in China, where almost 20 percent of its overseas ticket sales occurred, according to Box Office Mojo, an online service that tracks international box office results.
huangying@chinadaily.com.cn