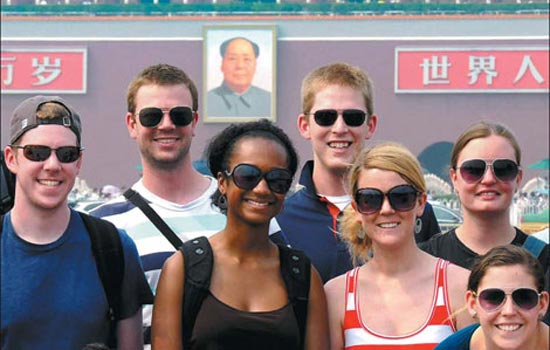 "You are my sunshine, my only sunshine... Please don't take my sunglasses away." Tourists in Tian'anmen Square wearing sunglasses during a hot summer day. Both sunglass producers and stores now see a busier business season as compared with the same period last year. [Photo/China Daily] 
High-end companies foresee big opportunities in the Chinese market
After the aggressive purchase of three Chinese optical companies for an estimated 600 million yuan ($95.24 million) since it came to China at the end of 2005, US-based LensCrafters is launching a new concept store under the name of "LC+".
The outlet will be the flagship store of the giant high-end retail chain owned by Luxottica Group S.p.A., the world's largest eyewear company, whose most famous brands include Ray-Ban, Persol and Oakley Inc. It also makes sunglasses and prescription frames for designer brands such as Chanel and Prada. Luxottica also produces sunglasses branded Burberry, Polo Ralph Lauren, Stella McCartney, Tiffany, Versace, Vogue, Miu Miu, Tory Burch and Donna Karan.
The company's retail branch has 7,000 stores in the United States, Canada, China, Australia, New Zealand, South Africa, Israel and the United Kingdom and it makes more than 400 million pairs of eyeglasses a year.
LensCrafters is leading a trend among eyewear companies hoping to cash in on the huge number of shortsighted people in China who are now demanding high-end spectacles, sunglasses and contact lenses.
"We have been mainly focused on changing the brands, changing the stores and changing the service to be more premium during the last couple of years," said Frederic Seiller, Great China chief executive officer of Luxottica Retail, prior to the grand opening of the store in Shanghai in May.
With a prime location on Huaihai Road, one of the busiest shopping streets in Shanghai, and occupying a two-floor space featuring mirrors and bright fluorescent lights, the new store is designed to create an "approachable but premium" atmosphere that sits "between fast fashion stores and luxury brands", according to Seiller.
Sunglasses
Sunglasses, prescription as well as regular, will make a significant contribution to sales at the new store, if not all the company's stores, said Seiller.
"When you walk in big cities here, of course on sunny days the proportion of people wearing sunglasses may be just one out of every 10 people, while in Milan or Paris it's 60 to 70 percent or even higher. But you are seeing the younger generation starting to wear sunglasses so that's where the potential is," he said.
"Another indicator is that you see most of the fast fashion stores, or even small boutiques on the streets, here are selling sunglasses as accessories. But three or four years ago, they didn't have them, which is also good for companies like us because they are helping 'educate' consumers about the necessity of sunglasses, be it as fashion accessories or eye protection," he added.
Having seen a year-on-year increase in China of nearly 50 percent in the sun-protection eyewear sector, Seiller believes the potential of his 1,000 yuan-apiece sunglasses will continue to experience high growth because of the high number of shortsighted people and a growing interest in high fashion.
A report from the Hong Kong Trade Development Council found that 75 percent of Chinese people aged between 15 and 59 are in need of vision correction. Most of them have myopia.
Although China has the highest number of people in the world in need of vision correction, there is an "extremely low" rate of short-sighted people wearing contact lens. Statistics from the report showed that in cities such as Shanghai and Beijing, only 13 percent of short-sighted people choose to wear contact lens, while in Hong Kong, the number is 35 percent, in Japan, 32 percent and in the United States, 25 percent.
"Whether you are wearing contacts or not, you will need sunglasses for eye protection," said Seiller. He believes the potential for sales of sunglasses, which now account for 30 percent of the company business, is as large is as it is for contact lenses, if not larger.
Other newcomers are seeing themselves as educators in the market because many Chinese people are not used to wearing sunglasses.
"There aren't a lot of competitors or retail shops here exploding as in New York city. It's like a new beginning," said Larry Leight, a trained optician and the founder of Oliver Peoples, an LA-originated luxury sunglasses and prescription eyewear brand.
Planning to have his signature designer eyewear sold in China by the end of this year, Leight agreed that young people here are at a turning point and are willing to be "educated".
"There are lots of opportunities here because the timing is right: People are beginning to change," said Leight, at a small exclusive debut show of his products at Shanghai Waldorf Hotel earlier in May.
xujunqian@chinadaily.com.cn