China is establishing a world-class digital movie production center in Wuxi, East China's Jiangsu province, to boost the digital film industry and to attract foreign companies involved in the film and media industries.
Wuxi Studio, which covers an area of 6 square kilometers, will provide equipment and service for digital movie shooting, production and distribution, city officials said. More than 800 companies, including Raleigh Studios, the longest continuously operating studio in the United States, have established offices in the studio.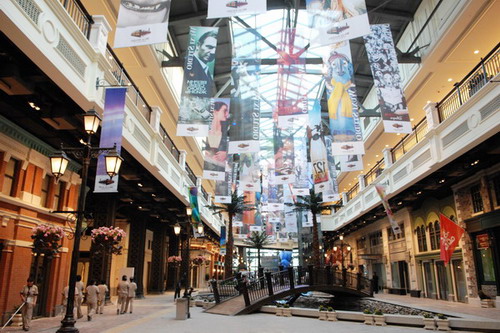 The main hall of the Wuxi Studio in Jiangsu province is decorated with posters of film characters. [Photo/China Daily] 
The State Administration of Radio, Film and Television and the Jiangsu provincial government will invest 10 billion yuan ($1.58 billion) in the studio, which will become China's first production center specializing in digital movies.
"In three to five years, the studio aims to produce 30 to 40 Chinese and foreign movies each year, and its annual revenue is expected to reach 20 billion yuan in the near future," said Zhu Weiping, Party chief of Wuxi's Binhu district, where the studio is located.
According to Mao Yu, deputy director of SARFT's film bureau, China's film industry has seen an annual increase of 30 percent in the past decade.
"The country now has more than 7,000 digital movie screens," Mao said.
In 2008, when Journey to the Center of the Earth was shown in China, there were only about 80 digital movie screens nationwide.
Statistics from SARFT show that in 2011 the overall box office receipts in China reached 13.1 billion yuan. In 2002, the box office receipts were less than 1 billion yuan.
"From January to April, the number of movies shown at Chinese cinemas increased by 40 percent," said Zhu. "But more than 60 percent of them are movies imported from other countries."
He added that China's film industry, though developing rapidly, "lags behind those of some countries by 20 years in terms of technology and talent pool".
China now produces more than 400 movies every year. Though almost every movie has a digital version, only one-third meet the digital movie standard, according to China Film News.
"Wuxi Studio will attempt to attract 30,000 to 50,000 film workers within five years, and we hope that it will become a platform for filmmakers, both from China and foreign countries, to communicate and cooperate effectively," Zhu said.
Contact the writers at cangwei@chinadaily.com.cn and songwenwei@chinadaily.com.cn