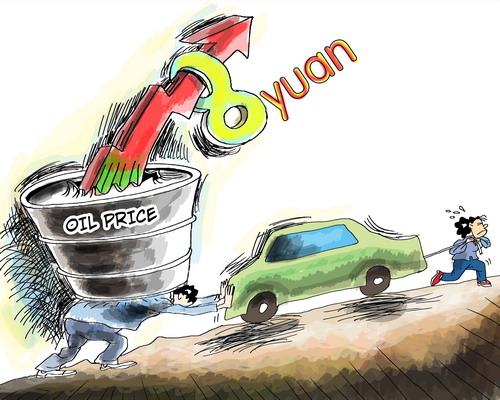 Drivers' sensitivity to rising fuel costs is understandable. The increase in March was the nation's biggest since June 2009 and boosted average retail prices for gasoline and diesel to record highs of more than 8 yuan ($1.27) a liter. [Photo/China Daily] 
People are contemplating changing their motoring habits and looking at overall inflation
With a heart for racing, Yang Liguang enjoys the moment when he overtakes other cars on the road. But after the fuel prices rose again in March, he has begun having second thoughts every time he wants to step on the accelerator pedal.
"The increase is obvious," said Yang, who drives a Honda Civic to work from Monday to Friday in Beijing. "I have to adopt a more gasoline-efficient way of driving now."
The price hike for petrol has not only altered people's driving habits but also the frequency with which they get into their vehicles. Leona Liu, who owns a Subaru sports utility vehicle, decided to cut back the numbers of trips she made to the capital's suburbs.
Each trip costs her about 200 ($32) to 300 yuan in terms of gasoline use. "It is not worth me while taking out my SUV with the price of fuel rising," said Liu, an account director at EBA Communications Ltd.
If the price of gasoline continues to rise, she will consider exchanging her SUV for a more fuel-efficient vehicle.
Drivers' sensitivity is not unreasonable. The fuel price increase in March was the nation's biggest since June 2009. The retail prices of gasoline and diesel have jumped to record highs of more than 8 yuan a liter.
The nation's top economic and industrial administrator, the National Development and Reform Commission, raised fuel prices by 600 yuan to 9,980 yuan a metric ton for gasoline and 9,130 yuan for diesel fuel on March 20. It was the second time this year there had been a rise. On Feb 8, the commission increased gasoline and diesel prices by 300 yuan a ton.
For individual motorists such as Yang, it means about 30 yuan more for each refill of gasoline, he said, a very significant rise even compared with that in February.
Taxi drivers who have also felt the pressure receive a government subsidy of around 300 yuan a month to offset the fuel price hike, according to the commission.
In Beijing, the local government raised the additional fee from 2 yuan to 3 yuan from the end of last month if a trip in a taxi exceeds the first 3 kilometers.
"The government subsidy has helped us to offset the impact of the fuel price increase," said Tian Wei, a veteran taxi driver in Beijing. "But the rise of the additional fee also drives away potential passengers, raising the vacancy rate and thus lowering our incomes."
Tian's biggest concern is to what extent the latest rise in the cost of fuel will affect inflation. "If prices go up, our real earnings will decline," Tian said.
China's consumer price index, a main gauge of inflation, expanded 3.6 percent year-on-year in March, the National Bureau of Statistics said on April 9.
The rate was higher than February's 3.2 percent figure, the lowest pace in 20 months.
A major driver of the growth, food prices, which account for nearly one-third of the weighting in the CPI calculation, increased 7.5 percent last month from one year earlier.
The wholesale prices of 18 staple vegetables rose for four consecutive weeks from February, an increase of 9.7 percent by early March, according to statistics from the Ministry of Commerce.
The price of pork, China's staple meat, went up 11.3 percent year-on-year in March, pulling back 4.6 percentage points from February.