Online luxury market soaring
Updated: 2012-02-14 09:45
By Gao Yuan (China Daily)
| | | | | | | | | | | |
| --- | --- | --- | --- | --- | --- | --- | --- | --- | --- | --- |
|   | | Comments() | | Print | | Mail | | Large Medium  Small | 分享按钮 | 0 |
Near-70 percent surge on 2010 sales and figure is expected to continue upward momentum
BEIJING - For the first time, the turnover of China's online luxury goods shopping market has exceeded 10 billion yuan ($1.59 billion) and the market is likely to continue expanding at a year-on-year increase of 30 percent over the next several years, according to a report.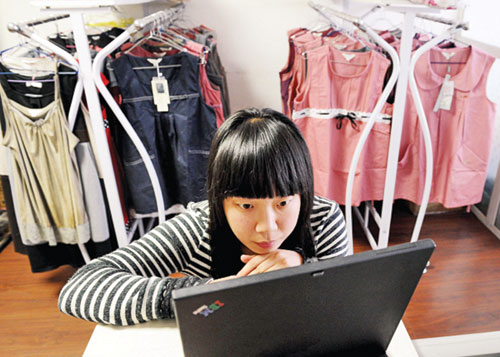 A fashion shop owner checking her online orders. Industrial experts said the turnover of the nation's online high-end brands is expected to reach 37.24 billion yuan ($6 billion) in 2015 from last year's 10.73 billion yuan. [Photo/China Daily]
The turnover of the nation's online high-end brands hit an unprecedented 10.73 billion yuan last year, surging sharply by 68.8 percent compared with 2010's sum of 6.36 billion yuan, according to findings released by the Internet analysis company iResearch Inc.
The market will continue to increase at a speed of 30 percent over the next few years, which mean the turnover is likely to hit 37.24 billion yuan by 2015, said the report.
Revenues generated by the luxury goods' direct-sales stores on the Internet were not included in the turnover.
"Current online luxury purchasing was confined to top-class brands such as Hermes, Gucci and Louis Vuitton. Many second- and third-tier brands are not yet being sold in China. When they enter the market, online selling would be the best channel for them," said Ding Jiaqi, an analyst at iResearch.
As of last year, the turnover of luxury goods accounted for only 1.41 percent of China's total online shopping industry. The report estimated that the proportion could exceed 8 percent by 2015.
"So far, China's online luxury market remains small. We are waiting for it to explode," Chen Xiao, founder of the luxury goods selling website ihaveu.com, told Chinese-language newsmagazine, China News Weekly.
One of the factors that set back the growth of the nation's online luxury shopping market was the fact choice is limited. Bags, jewelry and watches are the most-bought items, said Ding, who added that greater choice would boost demand.
The nation is likely to become the world's biggest e-commerce market in terms of turnover by 2015, surpassing the United States, said the Boston Consulting Group Inc.
Statistics from the China Internet Network Information Center show that the nation had 173 million online shopping customers as of the first half of last year.
The figure is likely to reach about 350 million by 2014, more than the population of the US.
The total turnover of China's online retail market was 583.5 billion yuan during the first three quarters of last year, according to data from Analysys International.
The US consulting firm Bain & Co said revenues from the luxury market will exceed 100 billion yuan on the Chinese mainland in 2011. The nation is set to become the world's largest luxury goods market in 2012, replacing Japan.
However, the report expresses concern that high tariff and consumption tax could undermine China's luxury market.
Yao Jian, a spokesman for the Ministry of Commerce, said that China is willing to reduce import duty, including "some medium to high grade goods". It will be better if people buy high-end goods on the Chinese mainland rather than outside the country, the ministry indicated.
A weak economy will also affect the industry.
In July, xiu.com, one of the biggest luxury goods websites in China, announced that it received financing of up to $100 million in 2011. Its rivals, shangpin.com and vipstore.com, also announced financing plans in the second half of last year.
But according to China Business Journal, the luxury shopping websites are finding it difficult to lure venture capital now, most likely because of uncertain economic prospects.
Wan Donghui, deputy secretary-general at China Electronic Commerce Association, said China's online shopping websites should "take good care of" their credibility because reputation is a "core competitiveness" for Web-based shopping.
Chinese group-buying website gaopeng.com, a joint venture between Groupon Inc and Tencent Holdings Ltd, was accused of selling counterfeit Tissot watches in November. On Dec 8, gaopeng.com pledged to offer a full refund to customers who bought a fake Tissot watch.
Research shows men are big fans of shopping for designer goods online.
According to a separate iResearch report, about 65.5 percent of customers of websites that sell high-end goods were male, although across the online shopping industry as a whole they accounted for fewer than 50 percent.
The report also said that about 80 percent of buyers of luxury products were younger than 35, indicating that well-off younger people are the major customers of Internet-based luxury shopping. About 40 percent of China's online customers were aged under 24 in 2011, while about 20 percent of all Chinese shoppers were under that age.