E-commerce may lose its competitive edge, report Yang Wanli and Chen Limin in Beijing.
It started a year ago, when China issued its first regulation targeting online trade and services. Then, last month, Wuhan city officials collected more than 4.3 million yuan ($665,000) in tax from a company that sells clothing online.
Rumors flourished: Is the government going to start taxing online sales? What does that mean to my business - or my shopping habits?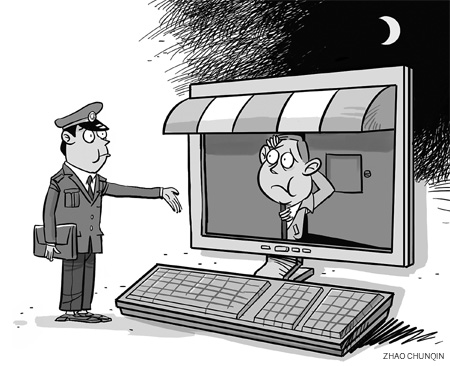 Many observers seem to have jumped the gun on the regulation, Wuhan tax collection and the rumored imminent introduction of e-commerce tax. But economic reasons make such a tax possible. It's happening in other countries.
As many as 161 million people, more than one-third of China's Internet users, shopped online last year, according to the China Internet Network Information Center. Sales reached 523.1 billion yuan, more than double the total for 2009, and accounted for 3.3 percent of all retail sales.
Deutsche Bank expects e-commerce will help drive retail sales to more than 1.5 trillion yuan, a 7.2 percent share of all domestic retail sales, by 2014.
Those kinds of numbers indicate the huge potential for tax revenue.
The tax at issue is not a sales tax, although the effect on consumers is the same. It's a value-added tax (VAT), and the regulation has been around since Dec 5, 2008.
It says that all people and entities engaged in the sales of goods; in providing processing, repairs or replacement services; and in importing goods to China are subject to paying VAT.
"According to the regulation, most online shops should pay value-added tax," said Liu Tianyong, senior partner of Hwuason Law Firm, the first in China to specialize in taxation law.
In Central China's Hubei province, the tax bill presented to Wuhan Zhuana Garment Co Ltd included VAT, enterprise income tax and an overdue fine for transaction volumes of 105 million yuan last year, according to Zhou Guangchun, spokesman for the Wuhan Municipal Office of State Administration of Taxation.
He said the company sells clothes through both traditional sales channels and its store on Taobao, China's biggest online selling platform.
"As long as the taxpayer is involved in the trade of goods, he or she should bear the obligation of paying tax, no matter how they trade the goods or in what way they settle up for the goods," Zhou said.
85% 'no' votes
Sina Weibo, a popular Chinese language Twitter clone, asked users in late June: "Do you support the collection of tax on online stores?" As of Monday, more than 5,200 votes had been cast, 85 percent of them against the idea.
Most of those who commented said they worry that taxes would lead to higher prices online and that e-commerce would lose its competitive edge.
"My God, if tax is charged on Net shops, how can we survive? The only way out is to close the store," Heaven Lin posted on Wednesday.
About 7 percent of the votes supported tax collection on Net sales; remaining voters stated no preference. Tianjinwolf said tax should be collected because it would put the sellers under government supervision, better protecting customer rights.
Zhao Yi, 27, would fall into the "no" category. Shopping is how she and her female friends spend their spare time - and their money. Zhao earns 8,000 yuan a month as an office worker in Beijing, and about half of that supports her shopping habit.
"Window shopping is nice but we prefer online shopping right now," she said. And the idea of adding tax to her purchases? "It's awful!" Zhao had just brought a blue party dress on Taobao for 328 yuan, less than she would have paid at a mall. "Look at this. It might be priced at more than 400 yuan with the tax," she said.
Real names, IDs
The regulations issued as "interim measures" last year by the State Administration for Industry & Commerce require online sellers to provide their real names and identification numbers to the shopping platforms where they open their online stores. Previously, some sellers registered with any name they wanted, and ID numbers were not required.
Online stores meeting the requirements to register as companies with their local industry and commerce bureaus - a preliminary to being taxed - are to do so.
Among other requirements, platform operators must regularly check the information they are given; sellers must present a receipt as a record to any buyer who asks for one; and sellers are responsible for providing specific product descriptions and for protecting customer privacy.
An official from the administration said it will begin a nationwide survey of Internet shops this year that aims to collect information on the number and sales of e-commerce shops. The data, to be collected over about three years, will contribute to standardized management of the industry in the future, the administration said.
"We are closely following what's happening, but we have not been told of anything related to taxing online sellers," said Yang Sha, public relations manager of Paipai.com, a shopping website under Internet conglomerate Tencent Holdings Ltd.
Taobao.com handled more than two-thirds of China's online shopping last year, with 400 billion yuan in transactions. Its public relations manager, Yan Qiao, said there are two kinds of online stores on Taobao - those registered as companies and those that are not.
Taxing a company or not "depends on whether it's a registered company, not whether it is an online shop", Yan said.
He declined to comment on whether the government should tax online stores, but said that registered companies should pay tax.
Liu, the tax law specialist, thinks that the regulations are the first step toward future taxing of online sales. "Following the providing of real personal information about online sellers, registering in the department of industry and commerce will be the next," he said.
"It is a good thing to consumers because all these actions will contribute a lot to cleaning the market. A short-term hurt is unavoidable, but greater service and high-quality products will come later."
The State Administration of Taxation didn't reply to China Daily's request for an interview about taxation of online shop owners.