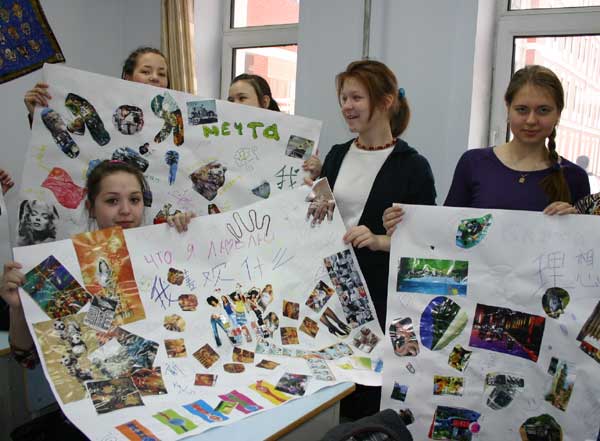 Russian students show collages featuring Chinese words at the No 1 Middle School in Heihe city in Northeast China's Heilongjiang province in April. [Qiu Qilong / for China Daily]
Confucius Institutes plan to train 20,000 teachers of overseas students
BEIJING - More than 40 million foreigners around the world are learning Chinese, a senior official with the Confucius Institute Headquarters said at the organization's fifth annual conference in Beijing, which ended on Saturday.
This year, 40 new Confucius Institutes and 97 Confucius Classrooms opened worldwide, while eight countries also joined the program, Xu Lin, the headquarters' chief executive and director-general of the Office of Chinese Language Council International, or Hanban, told China Daily.
And more expansion is on next year's docket, she added.
"We expect to dispatch 2,000 teachers and 3,000 volunteers from China, train 10,000 Chinese teachers and 10,000 local teachers, and release revised Standards for Teachers of Chinese to Speakers of Other Languages (TCSOL) next year," she said.
"A better benefits package will be offered to teachers from China. Tentative efforts will be made to establish a team of full-time directors and teachers for Confucius Institutes."
Confucius Institutes are affiliated with the Ministry of Education and are committed to educating people worldwide about Chinese language and culture.
A total of 322 Confucius Institutes and 369 Confucius Classrooms have been established in 96 countries and regions. Among them, 303 institutes and 265 classrooms are already operating, Xu said.
There were 360,000 registered students in 2010, which was 130,000 more than last year. More than 16,000 teaching programs and 8,000 cultural events attracted about 5 million participants in 2010, which was double last year's record, she said.
She also said the organization's teaching staff has been growing, with 4,109 teachers working on full-time or part-time bases, which was 1,000 more than last year. Half are from China.
"It's necessary to encourage more local teachers' participation in the long run, as the Chinese universities have limited teaching resources," Xiamen University President Zhu Chongshi said on the conference's sideline on Thursday.
Jilin University President Zhan Tao said the country should develop a "Chinese-language teachers' talent plan" to meet the soaring global demand.
"We should discuss what kind of favorable policies attract more volunteers and whether it's a good idea to fast-track postgraduate program admission for university graduates who have served Confucius Institutes," he said.
The institutes seek to equip every country willing to offer Chinese-language programs with quality textbooks within three to five years, Xu said. And the Confucius Institute Online will be enhanced to provide more educational resources for Chinese-language learners.
"We will also set standards for Confucius Institutes' establishment and operation, propose guidelines to strengthen the work of Chinese partner universities and conduct performance evaluations of institutes," she said.
The organization's funding has reached $167 million. About half the contributions come from overseas, the headquarters said in a report.
The average Confucius Institute receives $500,000 and a Confucius Classroom gets $60,000, the report said.