Xi stresses benefits of Sino-US relations
Updated: 2012-02-14 07:56
By Chen Weihua and Fu Jing (China Daily)
| | | | | | | | | | | |
| --- | --- | --- | --- | --- | --- | --- | --- | --- | --- | --- |
|   | | Comments() | | Print | | Mail | | Large Medium  Small | 分享按钮 | 0 |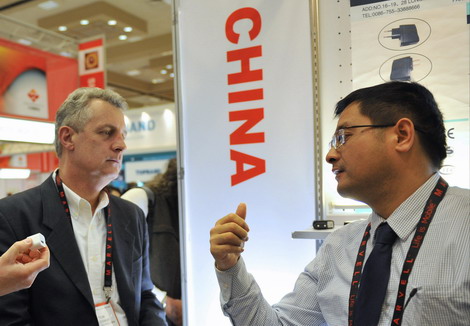 A businessman talks with a Chinese exhibitor at the 2011 International Consumer Electronics Show in Las Vegas, Nevada, in January last year. [Photo / Xinhua]
Nothing preventing friendly cooperation, vice-president says
NEW YORK / BRUSSELS - There are no reasons why China and the United States cannot engage in friendly cooperation, Vice-President Xi Jinping said.
Xi was speaking prior to his departure for the US on Monday.
In a written interview with the Washington Post, published online on Sunday night, Xi emphasized the importance and benefits of cooperation and respect.
"Mutual benefit is the defining feature of China-US business ties," Xi said.
"As economic globalization gathers momentum, China and the US have become highly interdependent economically. Such economic relations would not enjoy sustained, rapid growth if they were not based on mutual benefit or if they failed to deliver great benefits to the US. The Americans who know the real picture of China-US economic relations, including those in the business community, will echo this point," Xi said.
The visit will lead to better understanding between the countries, said David Fouquet, a specialist on EU-Asia relations with the European Institute for Asian Studies in Brussels.
The visit, it is hoped, will see relations soar above the rhetoric that accompanies a US election year, he said.
Friction and differences are hardly avoidable in bilateral economic and trade interactions, Xi said. But "we must not allow friction and differences to undermine the larger interests of our business cooperation".
Xi pointed out that China has taken active steps to meet legitimate US concerns over intellectual property rights and trade, and will continue to do so.
"We will continue to press ahead with the reform of the exchange rate formation mechanism and offer foreign investors a fair, rule-based and transparent investment environment," he said.
But Xi hoped the US will take substantive steps, as soon as possible, to ease restrictions on high-tech exports to China and provide a level playing field for Chinese enterprises to invest in the US.
What Xi listed are some long-term irritants in the Sino-US relationship, said Da Wei, an expert on US studies with the China Institutes of Contemporary International Relations.
Although those problems cannot be solved overnight, Xi's comments will help ensure that problems, at least, don't hurt ties significantly.
On regional cooperation, Xi said China and the US have more converging interests in the Asia-Pacific region than anywhere else.
"At a time when people long for peace, stability and development, to deliberately give prominence to the military security agenda, scale up military deployment and strengthen military alliances is not really what most countries in the region hope to see," said Xi, clearly in response to recent US plans to expand its military presence in the Asia-Pacific.
"The vast Pacific Ocean has ample space for China and the US," Xi said.
On international economic and security cooperation, Xi said the two countries have conducted effective coordination and cooperation in addressing major international and regional issues and meeting global challenges in recent years.
"We are at a time when the negative impact of the international financial crisis and the European debt crisis continues to spread, regional hotspot issues crop up from time to time and traditional and nontraditional security threats are intertwined. Under such new circumstances, it is all the more important for China and the US to communicate, coordinate and cooperate more closely and work together to play a constructive and responsible role in upholding and advancing world peace, stability and development."
The rest of the world wants China and the US to work closer together, experts said.
The international community would like to see greater cooperation, Fouquet said, especially "on security issues such as the Middle East".
The personal element will play an important role on the tour.
"I think Americans are really eager to know who he is, to have a sense of him, what his views are on many questions," said Jerome Cohen, law professor at New York University and a leading Western scholar on China's legal system.
"We always like to have some feeling of the personality of great leaders, those of ours and those of other countries," Cohen said.
Fouquet said Xi's visit would be seen as more personal than political or strategic.
It will be interesting to see Xi in a different way, rather than being a negotiator he will play the role of a communicator, he said.
Xi emphasized the importance of people-to-people exchanges and fondly recalled his visit to Iowa in 1985.
"I saw corn farming and processing and stayed with a family for a couple of days. I was deeply impressed by America's advanced technology and the hospitable and industrious American people. That visit drove home to me the importance of closer exchanges between our peoples and gave me a better understanding of China-US relations," said Xi, who will pay a return visit to the Iowa town of Muscatine.
Xi said he watches NBA games on television when he has time. "They are exciting to watch and have global appeal. They are very popular in China," he said.
"I like sports, and swimming is my favorite. Doing physical exercises keeps one fit and healthy and helps one work more efficiently. I think we all need to strike a balance between work and relaxation. This can keep us energetic and help us do our job better."
Zhao Shengnan in Beijing contributed to this story.