Mini SLRs set to snap up the photo market
Updated: 2012-02-13 09:55
By He Wei and Tuo Yannan (China Daily)
| | | | | | | | | | | |
| --- | --- | --- | --- | --- | --- | --- | --- | --- | --- | --- |
|   | | Comments() | | Print | | Mail | | Large Medium  Small | 分享按钮 | 0 |
Mini SLRs don't have the bulk of the professional devices, but they do the same job
SHANGHAI / BEIJING - Digital single-lens reflex cameras may be the most powerful gadget for taking photos but are far from the simplest to use. And the simplest pocket ones? They are usually not so powerful.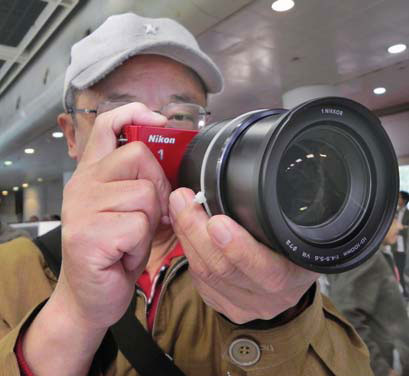 An enthusiast tests a mini digital single-lens reflex camera at a photographic equipment exhibition in Hangzhou, Zhejiang province. Mini SLR cameras have become a new and more cost-efficient choice for customers in the domestic market.[Photo/China Daily]
The dichotomy had long obsessed Qian Jingjing, a photography enthusiast, until camera manufacturers began releasing products that fall between the two - the mini SLR.
Qian likes to go hiking over the weekend and takes pictures along the way, but compact digital cameras simply don't shoot pictures in the way she desires. They are either slow or the color rendition was poor. However, a big SLR was too bulky.
"It's like you are forever stuck with two camera categories: digital ones that take mediocre pictures and heavy black ones that take stunning photos but require a neck strap. But a mini SLR is like a white knight riding to the rescue," Qian said.
Qian bought her first mini SLR, an Olympus E-PL1, in 2010 upon its debut. She said the light weight and good picture quality encapsulated all her needs.
China's digital camera market enjoys thriving growth. Statistics from data provider Euromonitor showed the market size doubled to 20.6 billion yuan ($3.27 billion) in 2010 from five years ago. But there is no further breakdown for mini SLRs, indicating it is a fledgling sector.
As both ends of the product spectrum are already teeming with models, manufacturers are eager to differentiate their products in the hope of gaining a foothold in the new market.
Panasonic Corp, a forerunner in the mini SLR field, unveiled its first such product - the Panasonic G1 - in 2008, in a bid to carve out a potentially lucrative niche for itself in a market crying out for innovation.
With the rise of high-end smartphones, ordinary DCs are losing momentum while SLRs are mostly for professionals, creating an "enormous market opportunity in between", the company said in an e-mail to China Daily. Panasonic now has a product line of 10 mini SLRs.
Sony Corp, also a leading producer of electronics products, released its first mini SLR - the NEX-5C - in June 2010.
The mini SLR was intended to act like a compact DC while offering the quality and versatility of a digital SLR, in an attempt to "convert the millions of pocket camera buyers who are put off SLRs by their bulk, complexity and lack of user-friendliness", Hatano Satoshi, vice-president of the digital department of Sony China, wrote in an e-mailed reply to questions from China Daily.
Other major camera makers also joined the mini SLR fray. Olympus Corp's PEN series hit the market gaining an unprecedentedly strong response, and Nikon Corp, a heavyweight player in the camera industry, unveiled Nikon 1 last year, sending a strong signal that fierce competition is kicking off.
A mini SLR uses a much bigger image sensor that is good enough to act like the mirror in its bigger cousins. It is compatible with various types of lenses, said Ai Lun, a seasoned photographer who lectures in several universities in Beijing.
"Physics explains why you can't take professional-quality pictures with a small camera. Big, bright photos require big sensors and big lenses to shine on the chips," Ai said.
According to Ai, the mechanics of an SLR camera involve light hitting a mirror and then passing through a focusing screen and into a block of glass called a pentaprism. When someone takes a photo, the mirror flips up and a shutter opens that exposes the digital sensor to the light.
Mini SLRs use an image sensor, a device that converts an optical image into an electronic signal, thus replacing the mirror and the pentaprism, effectively reducing its size. The chips in mini SLRs are on average 15 times bigger than those in portable DCs, ensuring a high resolution picture with less noise.
The interchangeable lenses allow users to have a lens for each and every occasion.
The mini SLR has become a cost-efficient choice. Research by 360buy.com, a major home appliances online marketplace, shows that prices normally range from 3,500 to 7,000 yuan, which is acceptable to those who crave a device that produces output of a similar quality to that of an SLR, but find themselves financially stretched. It can cost up to 20,000 yuan to buy an SLR, without a fancy lens.
"With all their advantages, mini SLRs will eclipse their counterparts very soon and hold a dominant position in two years," Ai said.