BEIJING - Railway agencies across the country are posting up-to-date information on their micro blogs to provide better service to passengers going home in the Spring Festival peak travel season.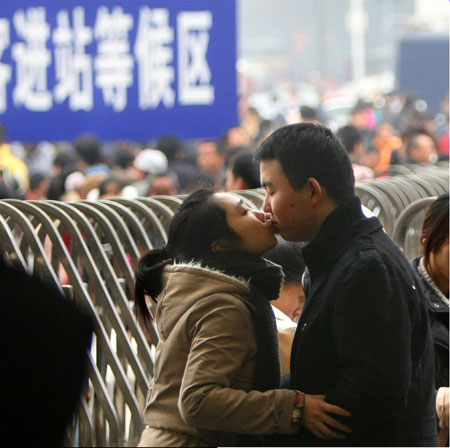 A man and a woman kiss goodbye at the Chengdu Railway Station, Sichuan province, on Monday. Provided to China Daily
To date, 19 railway bureaus and 35 train stations have opened official micro blog accounts on Sina weibo, China's most popular micro-blogging website, to publish information on the Spring Festival travel rush.
"On our micro blog, we provide the train schedule, the number of tickets available and other information that may affect passengers' travels, to give our followers the latest news," Tang Yizhi, an official who is responsible for the micro blog of Nanning Railway Bureau in the Guangxi Zhuang autonomous region, told China Daily on Tuesday.
She added that if passengers lost their luggage in the railway station, they can also visit the micro blog to see whether there was any information about the luggage.
The bureau opened micro blog accounts on some big Web portals, including Sina and People.com.cn, at the end of 2010, and has attracted more than 700,000 followers.
"Our micro blog mainly targets people departing from or going to Nanning," Tang said, adding that the site got 50,000 additional followers before the Spring Festival rush this year.
"We post railway information on times, but also answer our followers' questions," she said. "The micro blog has established a bridge between passengers and us, and it can be seen as the fastest way to deal with travel problems."
Liu Qi, an official at the Nanning Railway Station, echoed Tang's words, saying the micro blog has become the main platform for students to get booking information.
"This year, the Nanning government provided a special online platform for students to book tickets and we put the news on our micro blog immediately," Liu said, adding that most college students who came to buy tickets through the online platform knew of the service because of the station's micro blog.
Currently, most passengers get railway information on micro blogs through their mobile phones and some even try to find traveling companions through the micro blog.
Liang Liang, a ticket seller at a cinema in Dalian, Liaoning province, has followed the micro blogs every day and left a post on a micro-blog to find travelers also taking the train from Dalian to Jilin province.
"I once found a friend on a train back home with my micro blog. It's very interesting, so I guess I can have the same experience during this Spring Festival rush," the 37-year-old said.
"I can get up-to-date information on the micro blog, learn about or share booking experience with other micro-bloggers," he said. "If I have a travel question, I can contact weibo operators, which saves time compared with calling them or visiting their official websites."
Liang, who has booked his ticket and will go back home on Jan 14, refreshes his micro blog every few minutes, trying to forward useful railway information to his friends or weibo followers who are still trying to get tickets.
Some say railway micro blogs could do more for passengers.
Guo Zixin, a 25-year-old Beijing resident who studies in Shanghai, said she already knew the train schedule between Beijing and Shanghai, and what she really needs is information on the charges for transporting luggage and the locations of ticket offices.
But the latter information can hardly be found on most of the railway micro blogs, she said.