Setting high standards at the Standard
Updated: 2011-10-20 10:28
By Wang Xiaotian (China Daily)
| | | | | | | | | | | |
| --- | --- | --- | --- | --- | --- | --- | --- | --- | --- | --- |
|   | | Comments() | | Print | | Mail | | Large Medium  Small | 分享按钮 | 0 |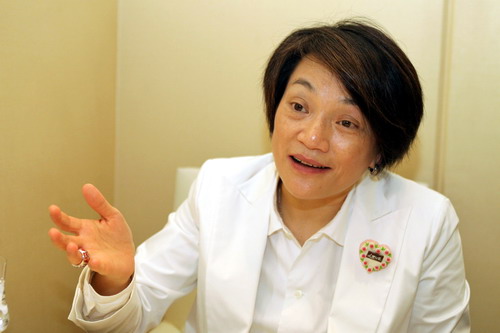 Highly driven Tsang sees potential for strong growth across China.
BEIJING - Judging from appearances, Katherine Tsang is not the typical boss of an international bank that can measure its history back more than 150 years.
Her obvious feminine tastes and her delicate face, resembling that of famous Chinese actress Zhou Xun, a winner of the best actress award at the 15th Paris Film Festival, belie the need for an acute eye for the bottom line essential in the rough-and-tumble world of investment.
She arrives dressed immaculately in a neat white suit, with a heart-shaped brooch on her left collar featuring a circle of pink tiny artificial roses surrounding the word "love". An ornate ring adorns her index finger with another silver and gold one on her ring finger.
Tsang, 54, is the younger sister of Hong Kong Chief Executive Donald Tsang. She has worked for Standard Chartered Bank (SCB) since 1992 and was appointed as its chief executive officer in China in March 2005.
In July 2009, she was promoted to the role of chairperson for Greater China, a newly created position viewed as a step by the emerging markets-focused lender toward strengthening its business in the region.
While she was CEO, SCB's revenue from operations in China increased 12-fold. "Under her strong leadership, we have developed a clear strategy and built a strong foundation for growth," said Jaspal Bindra, SCB's group executive director and CEO, Asia.
"Before I came to the mainland, I thought I already knew the market well enough, because I had been doing business related to the mainland since the 1980s. But later I discovered how ignorant I was - as a Chinese I had to learn how to be a real Chinese," said Tsang, referring to the market disparity and cultural conflict she experienced when she started to work on the mainland.
Tsang was the first CEO with SCB (China) Limited, one of the first foreign banks to locally incorporate in China back in April 2007. "When we started, it was like crossing a river by feeling for the stones. The stones were very slippery sometimes and we couldn't see them. Only when we took each step would we know whether we had made the right move."
Tsang attributed her success to the abundant business opportunities made available after the mainland opened up to foreign banks as part of its promises for joining the World Trade Organization.
"Our development was very rapid. Shortly after the opening-up, we had the opportunity to develop a renminbi business, to set up a local bank, to extend branches and to get various licenses - this was a kind of luck. I cherish it and, therefore, I've always worked hard."
Tsang confessed that sometimes she felt worried and restless when faced with high uncertainty in the market. "I was very afraid that something bad would happen. Luckily I am getting old and my memory of these things is fading."
To Tsang, her current position is a new start of great significance as interaction between the mainland, Hong Kong and Taiwan improves dramatically.
"The situation is different and the clients' demand for capital has also changed. For example, previously they just sold bonds on the mainland. Now the channels have multiplied and they (businesses) could go to Hong Kong and Taiwan to raise capital."
Tsang expects SCB's business related to Taiwan to grow faster after it established a Taiwan desk in five mainland branches following the acquisition of Hsinchu International Bank in November 2006. The move made it an international bank with the largest network in Taiwan.
As China accelerates its pace to float the yuan globally and encourages domestic enterprises to explore overseas market, she believes great opportunities are lying ahead for leading international lenders such as SCB to make good profits in the region.
"We think there is good business potential across the region driven by these two predictable changes," said Tsang.
The financier wants the Chinese government to promote wider use of the yuan in trade settlement with overseas importers and to extend other global offshore centers for yuan internationalization by getting those centers to sign contracts with Hong Kong in order to achieve the hub-and-spoke effect and make the whole process more controllable.
As one of the first foreign players in Hong Kong participating in yuan trade settlement pilot projects, SCB was the first international lender that processed two-way settlements between the mainland and Hong Kong. It was also the first foreign bank that issued yuan-denominated corporate bonds in Hong Kong.
On this aspect, SCB is strengthening its cooperation with the Agricultural Bank of China Ltd (ABC), one of the country's Big Four lenders, to combine its global network with ABC's extensive domestic network and its sound client basis.
Standard Chartered PLC invested $500 million in ABC's IPO in 2010.
"We take a long-term view of the partnership. ABC offers plenty of scope for mutually beneficial cooperation given our complementary strengths and footprint. ABC has some 2.6 million corporate clients, more than 320 million personal customers and nearly 24,000 branches, but virtually no international network. This is where we found a niche in which we could play to our strengths," said Tsang.
She said SCB has already become ABC's preferred partner for trade and cash, and it has seen a significant increase in trade volume with ABC.
The two sides are working on several high-end projects under the so-called China-Africa corridor program, and a number of deals in equity capital markets, debt capital markets and third party syndications. "The pipeline looks good," said Tsang.
Standard Chartered PLC's income in the mainland grew year-on-year by 16 percent to $404 million in the first half of 2011. Including Bohai Bank, in which it has a 20 percent stake, profits in the mainland increased by 76 percent to $137 million during the same period.
"However, this significantly understates the impact of China on the group as a whole. Quite apart from Hong Kong, where the business is increasingly intertwined with the mainland, China generates income across our network," said Peter Sands, group chief executive of Standard Chartered PLC.
He said China's action to moderate the pace of economic growth and squeeze inflation is having some limited effect on the business growth momentum, and the lender will continue to invest and grow rapidly in the country.
Currently the lender has 19 branches, 51 sub-branches and 1 village bank in China, and employs more than 5,500 staff.
It had opened nine branches or sub-branches this year on the mainland as of Aug 3, taking the total to 71. The bank opened a new branch in Xi'an, capital of Shaanxi province, on Aug 30, a key step for SCB's expansion in Western China.
"As for our network on the mainland, we ranked third among foreign players. The focus of individual institutions usually varies. For us, we put more emphasis on balanced development," said Tsang, adding that SCB had not invested less than other players, but its investments mainly went to personnel, especially professional staff who displayed an ability to find their way through various uncertainties in the market.
To Tsang, SCB is like a strong, vibrant, well-experienced and reliable marathon runner who shows great patience when entering a new race (meaning an emerging market).
"Standard Chartered has been developing in China for 152 years, but it was only in 2005 that we started to learn how to become a Chinese bank. We wish to be a part of China. The only difference is that we brought knowledge and experience from abroad."
The bank is researching the possibility of setting up a joint venture with a Chinese securities player, as some foreign banks have already done, and remains confident about its retail banking business, although foreign banks only hold a market share of around 1.8 percent, said Tsang.
Despite the rising uncertainties in the market, such as white-hot inflation, economic slowdown and a higher reserve requirement, Tsang said she is confident about China's economic prospects, the huge business opportunities lying ahead and SCB's continued commitment to the world economic driver.
"I like challenge. Unimaginable difficulties can often trigger a strong willingness to overcome them."
Tsang was born in Hong Kong and educated in the former British dependent territory and Canada. She holds a bachelor of commerce degree from the University of Alberta, Canada.
Before joining Standard Chartered, she worked in several organizations including Acro Chemical Asia Pacific, Kowloon-Canton Railway and the Hong Kong government.